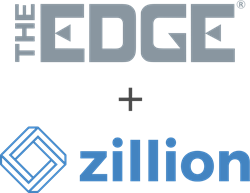 "This is truly an incredible customer benefit," said John Simonian from The Source Fine Jewelers.
PALO ALTO, Calif. (PRWEB) April 30, 2020
Zillion, the jewelry insurer that offers 1-Click insurance at point of sale, has partnered with The Edge to provide jewelry store customers immediate insurance with their purchases through 1-Click technology right on their smartphone. This cutting-edge technology brings efficiency and ease to the jewelry industry countrywide and provides a valuable customer benefit, so jewelers no longer have to watch their customers leave their store unprotected. The program is enabled through a free Edge software feature, and customers can immediately receive 10-Days of no obligation insurance, and peace of mind. Visit myzillion.com/theedge to learn more.
"This is truly an incredible customer benefit," said John Simonian from The Source Fine Jewelers. "It costs the jeweler nothing but adds so much goodwill to the customer relationship. I was always concerned when customers left my store without insuring their purchase, and now with Zillion and The Edge, I am able to help my customers without doing anything differently other than emphasizing the importance of protecting their jewelry. It's a no brainer. I am taking care of my customer."
"The new Edge software feature enables a better customer experience," said Adam Black, Co-Founder and Managing Director of Zillion. "We are reinventing jewelry insurance and are overjoyed to be able to support jewelers and help their customers protect the things they love. We have removed all of the friction, and the mere simplicity of the program is the icing on the cake."
About Zillion
Zillion (myzillion.com) is an insurtech company providing jewelry insurance at point of sale, "making it super easy to protect the things you love". The company emerged from a simple question - In today's modern world, why is insurance still a cumbersome and confusing experience? With Zillion's technology, consumers can obtain and manage jewelry insurance with just 1-Click. In partnership with local, national and online jewelers, Zillion enables a dramatically better consumer experience, providing immediate insurance coverage at the time of purchase. Customers can now, very simply, walk out of a store with their jewelry, and "wear it with confidence" knowing they are protected. Zillion's customers are backed by AXA XL, rated A+ Superior by A.M. Best, and one of the largest insurance companies in the world.
About The Edge
The Edge (theedgeforjewelers.com) sets the standard in the jewelry industry for functionality, ease of use, and innovation. The Edge is a comprehensive jewelry store management system with all the functionality a jeweler in the 21st century needs to run a successful business. The Edge provides insight to all the essential elements of retailing including customer, advertising, sales staff and inventory performance, critical information upon which jewelers will make better business decisions. The Edge is designed to help jewelers grow their business using technology and best business practices. Our powerful software supports over 3500 retail jewelers in the USA, Canada and the Caribbean.
Media Contact:
press@myzillion.com