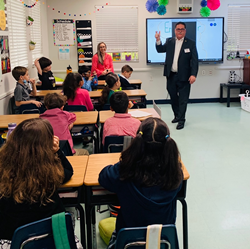 Through the Teach-A-Thon, we seek to educate the community about the teaching profession and show teachers that we support their efforts. Join us by donating to show teachers we care!
MIAMI (PRWEB) February 01, 2023
Miami-Dade, like the rest of the US, is in need of teachers. The Education Fund and Wells Fargo are challenging the business community to take action that will help them better support the teaching community and understand the role teachers play in our local schools.
The Teach-A-Thon challenge puts business executives in the shoes of teachers to gain first-hand experience about why successful teacher retention and recruitment strategies are critical to student achievement. Additionally, The Education Fund is asking the entire community to participate in a campaign to "Have a Heart & Support Our Public School Teachers. The goal is to raise tens of thousands of dollars during the month of love. These dollars will be used to support classroom instruction and make teachers' jobs just a little easier.
"At least once a year, I get to bring financial health guidance to a local classroom as I step into the role of a 'teacher' via The Education Fund's Teach-A-Thon," said Wells Fargo South Florida Branch Banking Region Director Hector J. Ponte. "I have served on the Board of Directors of The Education Fund for more than 20 years and I've seen firsthand their efforts to support our local teachers as they face the many challenges that come with their profession. And as the son, spouse and father of current and former public school educators, I am incredibly proud to advocate for this organization along with the support of my employer, Wells Fargo."
The Teach-A-Thon is a five-month education campaign that aims to foster awareness about the teaching profession and raise money to help teachers get the supplies and equipment they need for classroom instruction. The teaching profession may be the only one where professionals are asked to fund their own work. The Teach-a-Thon seeks to lessen this load. Community members can help by joining The Education Fund's "Have a Heart" campaign, demonstrating their support of teachers by donating during the month of Valentine's Day at http://www.educationfund.org/teachathon. The campaign ends on 2/28/23.
Already, more than 180 volunteers called Public School Champions, are reaching out to their networks to ask friends and colleagues to participate. These business executives traded in their briefcases for lesson plans, stepping into the shoes of a teacher to understand more about the teaching profession. They are teaching science, history, math, finance, and language arts from pre-K to high school in the third-largest school district in the country.
The 2022-23 Teach-A-Thon features business professionals from Wells Fargo, Assurant, Kaufman Rossin, and dozens of other companies throughout the community. Serving as Public School Champions are executives including Hector Ponte from Wells Fargo, Mabel Morrison from Assurant, Nick Tootle from Kaufman Rossin, Jackie Martinez from Humana, Pablo Pino from TD Bank, Ralph Pagano from The Naked Taco, Richard Milstein from Akerman, Bill Hanson from Bill Hanson Catering, Wendy Kallergis from GMBHA, and many others.
"Public school teachers are essential to guiding our youth and shaping their futures -- and ours! Yet, current trends show many teachers are leaving the profession and not enough are entering it. Through the Teach-A-Thon, we seek to educate the community about the teaching profession and show teachers that we support their efforts. Join us by donating to show teachers we care!" said Linda Lecht, president of The Education Fund.
The Education Fund will celebrate the 2022-23 Teach-A-Thon and those that participated at the Taste of Education, an annual culinary event on Tuesday, February 28 at Hialeah Park featuring the gourmet creations of students in Miami-Dade County Public Schools.
To donate to the Teach-A-Thon, visit educationfund.org/teachathon. Purchase tickets to the Taste of Education at EducationFund.org
###
About The Education Fund: The Education Fund's current initiatives, including Food Forests for Schools, Ideas with IMPACT, Teach-A-Thon, Ocean Bank Center for Educational Materials, and For The Love of Art Annual Charity Auction, bring innovative methods to our schools; inform the community about public education; and encourage private sector investment in public education. The Education Fund's work with the private sector has resulted in more than $72 million raised to improve education for public school students and teachers in Miami-Dade County. Visit Educationfund.org.