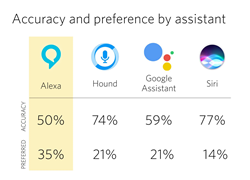 "Our research proves people prefer assistants that show personality and have human characteristics. User experience (UX) is key -- even in situations where there is not a screen."
VIENNA, Va. (PRWEB) June 03, 2019
The emotional evolution of chatbots/virtual assistants is here thanks to the continuous research and adoption of this emerging technology. 10Pearls has conducted in-depth research on this topic to conclude that empathy trumps accuracy, as it related to human preferences for chatbots and virtual assistants.
Gartner, the world's leading research and advisory company, included the research in its April 2019 report, "Governance and Best Practices for Chatbot Development" (access requires Gartner subscription). The report states, "Whether it is too many vendors — or poorly defined narrow solutions — building, deploying and maintaining successful chatbots is fraught with problems. Application leaders should use governance and best practices for chatbot development to guide both long-term deployments and short-term investments." Gartner's report lists five recommendations for "application leaders involved in AI governance issues."
The 10Pearls' study brought in a diverse group of individuals to interact with four virtual assistants: Amazon Alexa, Google Assistant, SoundHound's Hound, and Apple's Siri. Prompts were given to participants, who then had to develop a question or command to say to the assistant to facilitate a conversation. Measurement of emotional responses of participants during this dialogue provided key insights, as shown in the attached graphic from 10Pearls' research.
The primary finding of the study was that empathy matters, and the most accurate tools are not the most preferred. Alexa was the least accurate, but the most favored by participants. When asked why, participants had comments such as "She seemed nicer," and "It feels like I am interacting with a person."
Gartner recommends that "application leaders involved in AI governance issues incorporate tone, emotion, personality and other soft features into your chatbot solutions by acquiring linguistics skills."
"Not all Chatbots are created equal. It's the degree of humanity that sets them apart," said Imran Aftab, CEO of 10Pearls. "This research shows that adoption of emerging tech is reliant on the overall human experience, and not just accuracy."
Recognizing the importance of empathy, Microsoft recently announced a new conversational engine that will integrate with the Cortana virtual assistant and enable new capabilities and advanced interactions. The new Cortana should be able to better understand human conversation and react accordingly.
10Pearls cutting-edge research is focused on providing businesses with key insights that can be leveraged to digitally transform successfully -- leading to the best outcomes and experiences for customers.
10Pearls has been cited in previous Gartner reports, such as the May 2018 Market Guide for AI-Related Consulting and SI Services for Intelligent Automation. For more information, visit 10pearls.com
Gartner Disclaimer:
Gartner does not endorse any vendor, product or service depicted in its research publications, and does not advise technology users to select only those vendors with the highest ratings or other designation. Gartner research publications consist of the opinions of Gartner's research organization and should not be construed as statements of fact. Gartner disclaims all warranties, expressed or implied, with respect to this research, including any warranties of merchantability or fitness for a particular purpose.
About 10Pearls:
10Pearls is an end-to-end digital technology services partner that helps businesses with innovative product development, digitalization of existing business processes, modernization and acceleration through augmentation of existing teams. We leverage our deep understanding of the latest technologies and the nuances of the digital landscape in your specific industry to drive company growth, no matter where you are on your digital journey. 10Pearls is proud to have a diverse clientele including large enterprises, SMBs, and high growth startups. We work with clients across industries, including but not limited to healthcare/life sciences, energy, communications/media, financial services, technology and education. Our many long-term, successful partnerships are built upon trust, integrity, and successful delivery and execution. To learn more, visit 10pearls.com.