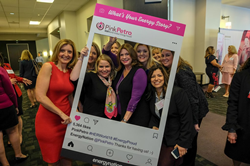 "We need a relevant platform to discuss energy openly that includes everyone and HERWorld is the place for those discussions." Katie Mehnert, Founder and CEO of Pink Petro
HOUSTON (PRWEB) February 12, 2019
Pink Petro, the global community working to end the gender gap in energy, is marking International Women's Day with HERWorld19, its annual global energy forum on March 7 and 8, 2019. This forum brings together global energy professionals to discuss the tsunami of change shifting the industry. HERWorld19 will take center stage simultaneously in Houston, Denver, London and online.
Google Cloud is the presenting sponsor and Darryl Willis, VP of Energy at Google Cloud, will be the opening keynote speaker. Willis is a former BP executive turned Silicon Valley transformer. His mission is to help make it possible for everyone to have access to affordable heat, light, and mobility.
The closing keynote speaker is Randi Zuckerberg. Randi is an entrepreneur, investor, bestselling author, and tech media personality. She is the founder and CEO of Zuckerberg Media, developing technology, content, and live events all with the mission of putting intelligent, tech-savvy, entrepreneurial women and girls at the center of pop culture and media.
MORE THAN A FORUM
HERWorld19 is a global experience where participants discuss the energy transition, big data, artificial intelligence, blockchain, geopolitics, and the workforce, in a different and inclusive way. It started in 2016 when oil prices hit rock bottom and was supported by Shell, KPMG and Halliburton. Since, the forum has grown to include key participants and companies inside and outside oil and gas and has held over 40 watch sites globally.
"Since its inception, HERWorld has been built on a firm belief that energy education is changing and needs to be accessible to everyone, everywhere," says Katie Mehnert, Founder and CEO of Pink Petro. "The digital component with a deliberate focus on diverse speakers sets us apart from conferences. We're an experience, not an event and I am proud we intentionally celebrate different voices, faces and perspectives in energy."
The HERWorld program lineup includes a wide array of perspectives and speakers including:

Barbara Annis, CEO of Gender Intelligence Group
Hillary Mercer, Vice President, Pennsylvania Chemicals with Shell US
Susan Morrice, President and Founder, Belize Natural Energy
Helena Bourdillon, UK Freediver/Author
Julie Munn-Simms, Principal, KPMG US
Jose Bayardo, Chief Financial Officer, National Oilwell Varco
Zhanna Golodryga, SVP, Chief Digital & Administrative Officer, Phillips66
Alice Jackson, President of Xcel Energy Colorado
Evelyn MacLean Quick, Chief Procurement Officer and Head of Global Supply Chain, Hess Corporation
Melody Meyer, Board of Directors, BP plc, National Oilwell Varco, and AbbVie
Pam Darwin, Vice President, Africa, ExxonMobil Exploration Company
Julie Wilson, Research Director, Global Exploration, Wood Mackenzie
Hugo Guerrero, Senior Vice President of Technical Services, Crestwood Equity Partners LP
Andrea Reynolds, General Manager of Transformation, Global Exploration, Shell UK
Bhushan Ivaturi, SVP, Officer, and Chief Information Officer, Enbridge
Judit Prieto, Vice President of Sales & Commercial, Baker Hughes GE
"We need a relevant platform to discuss energy openly that includes everyone and HERWorld is the place for those discussion. We expect to reach over 75,000 including energy disruptors, influencers, decision-makers, and the general public, both women and men," says Mehnert.
For more information, a full list of sponsors, registration information, and schedules, visit HERWorld19.
A portion of the proceeds are donated to Lean In Energy, a 501c3 nonprofit with the aim to help women in energy to achieve its ambitions by bringing mentoring to scale globally.
Pink Petro is the leading global community and social enterprise aimed at creating the new future and ending the gender gap in energy. Using social technology, its mission is to elevate and connect individuals, companies, and industry to create an inclusive workforce and supply chain. The community has a presence in 120 countries in nearly 500 companies across energy in oil and natural gas, LNG, renewables, and nuclear. Its sister company is Experience Energy and is the destination careers site for diverse talent in energy.