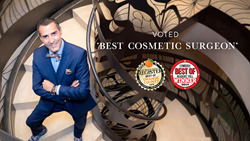 Best Cosmetic Surgeon 5 Years In A Row
NEWPORT BEACH, Calif. (PRWEB) November 08, 2019
Dr. Kevin Sadati is a highly specialized facial plastic surgeon with extraordinary surgical skills. As a trained sculptor and painter, he combines his surgical understanding of the human anatomy with his artistic eye to create harmonious, natural-looking results for each patient. Dr. Sadati has made appearances on TV and media outlets across the nation describing his technique that has been coined the "Natural Lift." Clients from around the globe travel to see Dr. Sadati for his surgical expertise. He and his surgical team provide the highest standards in patient care from the initial consultation to the conclusion of their care.
In Orange County, there is no shortage of surgeons, each with many years of training and expertise. Dr. Sadati has been picked out by the many, being voted "Best Cosmetic Surgeon" for the 5th year in a row by Orange County Register and recently OC Weekly.
Dr. Sadati stated, "This is a great honor and means, even more, coming from my patients," he continues, "the entire team at The Gallery of Cosmetic Surgery & Aesthetic Lounge strives to give patients the highest quality of care and superior results. I want to thank not only my patients but also my amazing staff for these awards."
Dr. Sadati is known for creating natural, beautiful results. He has performed over 3,500 facial rejuvenation procedures using local anesthesia and twilight sedation without the need for general anesthesia. He utilizes his nationally recognized facelift technique called, "Triple-C Plication." This breakthrough muscle tightening method is used for lower face and neck rejuvenation. His technique was published in the American Journal of Cosmetic Surgery, and he continues to share his expertise at plastic surgery conferences around the nation. He performs all of his surgeries in his state-of-the-art surgical facility to ensure patients have a safe and comfortable environment.
Dr. Sadati makes sure that his practice is patient-centric. During a consultation, he carefully listens to his patients and takes the time to answer their questions, help set realistic goals, and formulate a custom plan for their needs. His patients trust his skill and honesty, which is why he has been voted by Locale Magazine Readers, "Best Plastic Surgeon in Orange County," and his colleagues have voted him as the, "Best Overall Facial Rejuvenation," and, "Best Aesthetic Doctor," at the Aesthetic Show. He has appeared on "The Doctors" TV show by NBC for his outstanding nasal surgical procedures and has swept the nation with his facial rejuvenation techniques.
Along with being a plastic surgeon, Dr. Sadati is an artist. His skills as a painter and sculptor have helped him fine-tune the details of his subject and has allowed for amazing surgical results and aesthetic harmony. His practice is named, "The Gallery of Cosmetic Surgery & Aesthetic Lounge," as a testament to his love of art and his vision for his practice. Dr. Sadati provides patients with surgical services in his state-of-the-art surgical facility downstairs and has his staff of industry leaders offering non-surgical facial and body rejuvenation in the Aesthetic Lounge, his luxury medical spa on the second floor. Dr. Sadati said, "for our patients who are not candidates for surgery, or those who need to maintain their surgical results, we offer non-surgical facial and body contouring options at the Aesthetic Lounge." Such options include micro-needling with radiofrequency, fillers, laser resurfacing, and body contouring devices like CoolTone and CoolSculpting.
For more information on Dr. Sadati and his Newport Beach practice at the Gallery of Cosmetic Surgery, visit https://galleryofcosmeticsurgery.com
Gallery of Cosmetic Surgery & Aesthetic Lounge
359 San Miguel Dr #200
Newport Beach, CA 92660
(949) 441-1447