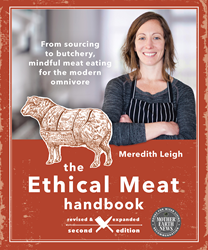 The Ethical Meat Handbook is not just a 'carnivore's guide' to meat. It provides keen insight on our responsibility to the land, agriculture, and the farmers that tend to it.
ASHEVILLE, N.C. (PRWEB) February 11, 2020
This week marks the launch of The Ethical Meat Handbook Revised and Expanded Second Edition: From Sourcing to Butchery, Mindful Meat Eating for the Modern Omnivore. Authored by nationally-recognized butcher and meat expert Meredith Leigh and published by New Society Publishers, this new version brings discussions of responsible meat production, consumption, and economics into the year 2020, in keeping with recent trends and conversations in the field. The book provides both broad, holistic perspectives on the state of meat production and farming in our world, as well as detailed instructions for butchering, cooking, and consuming meat animals.
The first edition of The Ethical Meat Handbook reached almost 300,000 people, and this revised version has been comprehensively updated to inform new readers and bring new understanding to those who are familiar with the initial edition. Over half of the book contains material not found in the first edition, and readers will find beautiful, full-color diagrams and photographs, and over 100 recipes for whole-animal cooking.
Culinary leaders nationwide, such as Adam Danforth (IACP and James Beard Award winning butcher and writer), Rebecca Martin (group editor of Mother Earth News), Ronni Lundy (author of Victuals, An Appalachian Journey with Recipes, James Beard Cookbook of the Year, 2017), Nicolette Hahn Niman (author of Defending Beef and Righteous Porkchop), and Jean Martin Fortier (author of The Market Gardener), have praised the book, calling it "a gem" and an "inspirational must-read" that is "an essential read for meat eaters and non-meat eaters alike."
Leigh writes in the introduction that the intent of this edition remains true to the first: to heal. Amid global ecological crises and political divides that take us away from doing the work to protect our planet and its creatures, Leigh argues for responsible stewardship of the land and animals as a way forward for us all, to heal our system into something sustainable.
The book is based on the belief that on a warming planet, divided by injustice and doubt and starvation on many levels, every eater has a way to conjure hope and empowerment, not tomorrow, but now.
The handbook specifically tackles how we can endeavor to source and consume meat with more of an understanding of issues across every step of the supply chain, from farm to fork. "Ethical meat" comes from an animal that enjoyed a good life, was afforded a good death, and then was butchered properly and cooked and preserved in a way that shows respect for the life that was given as food and to maximize the nutritional benefit of the meat.
"Meredith Leigh is, in her own words, 'a lifelong pilgrim for food,' but not just any food," said Camas Davis, executive director of the Good Meat Project and founder of the Portland Meat Collective. "She is a pilgrim for living food, real food, and food produced within intricately balanced natural systems, which, Leigh gently and elegantly reminds us, we can either live peacefully and humbly within or fight tooth and nail against."
"The Ethical Meat Handbook is not just a 'carnivore's guide' to meat. It provides keen insight on our responsibility to the land, agriculture, and the farmers that tend to it," said SheChef Inc. founder Elle Scott. "It takes a deep dive into food access, food privilege, and what it means to redefine the way we approach meat preparation from slaughter to plate."
The Ethical Meat Handbook's revised and expanded second edition is available now through your local bookstore, as well as online at Amazon, Barnes and Noble, or directly from New Society Publishers.
About Meredith Leigh
Over the past 17 years, Meredith Leigh has worked as a farmer, butcher, chef, teacher, non-profit executive director, and writer, all in pursuit of good food. She is the author of The Ethical Meat Handbook: A Complete Guide to Home Butchery, Charcuterie, and Cooking for the Conscious Omnivore, (3rd place, MFK Fisher Award 2015) and Pure Charcuterie: The Craft & Poetry of Curing Meats at Home. Meredith travels extensively teaching charcuterie and food production and processing, consulting for farmer and food businesses, editing, and providing marketing assistance for values-driven business. She also pursues other writing, namely poetry and nonfiction focused on the intersection of land and people, and land and the culinary sphere, with work featured in Crop Stories, various Edible publications, The James Beard Foundation blog, and Mother Earth News Magazine, among others. She lives with her partner and four children in Asheville, NC.