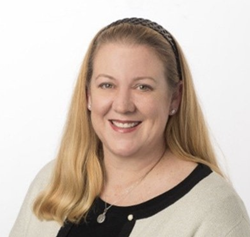 "Amy has critical talent, experience and insight into the most significant challenges for any technology company today, and that is recruiting high quality team players with passion and staying power," commented Larraine Segil, Chair and CEO of EWA
LOS ANGELES (PRWEB) December 08, 2020
The Exceptional Women Awardees Foundation today announced that after interviews with multiple candidates, Amy Hanlon-Rodemich, Chief People Officer of GlobalLogic, San Jose, California, has been invited to join their Cohort of Women Leaders for the Fall 2020 Awards.
"Amy has critical talent, experience and insight into the most significant challenges for any technology company today, and that is recruiting high quality team players with passion and staying power," commented Larraine Segil, Chair and CEO of EWA. "The competition for talent has never been greater, and Amy brings to GlobalLogic the wisdom of years in Silicon Valley companies, enabling the company to grow with the best people available. That capability is what we saw in Amy and is why we awarded her the EWA Award for Fall 2020."
"Our people are the foundation of our business, and the Chief People Officer is one of the most critical roles in the company," said Shashank Samant, President and CEO, GlobalLogic. "Amy has brought energy, fresh ideas, and a systematic approach to the people function (HR). In a short period of 12 months, she has won the hearts and minds of our 19,000 employee work-force across 14 countries and 30+ cities. Her people orientation and forward leaning approach to HR policies has helped us significantly improve employee engagement, talent recruiting, and retention."
GlobalLogic (http://www.globallogic.com) is a leader in digital product engineering. They help their clients design and build innovative products, platforms, and digital experiences for the modern world. Headquartered in Silicon Valley, and with 19,000 employees around the world, GlobalLogic operates design studios and engineering centers globally, extending our deep expertise to customers in the communications, financial services, automotive, healthcare, technology, media and entertainment, manufacturing, and semiconductor industries.
The Exceptional Women Awardees Foundation (EWA) selects high potential, upper-career Exceptional Women from multiple industries, develops and mentors them with guidance and career redesign advice to propel them to sustainable success - one woman at a time. Their year-long program enables the EWA to be connected for life to their ever-expanding EWA global network, as their fellow women leaders move into positions of significance.
Learn more at https://www.exceptionalwomenawardees.com/