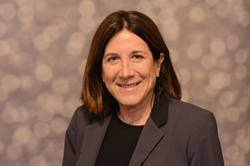 Judy has deep experience building strategy and partnerships and is devoted to mentoring the next generation of business leaders
LOS ANGELES (PRWEB) April 27, 2020
The Exceptional Women Awardees Foundation announces that, out of many highly qualified applicants, Judith Schrecker, former CFO, GLOBAL ROLLED PRODUCTS ALCOA, has been selected for the April 2020 EWA Award.
"Judy has had a stellar career in the world of finance and philanthropy having served as CFO, Alcoa Global Rolled Products. Her most recent role has been as Vice President of Finance for Allegheny Technologies, Inc (ATI). She has also served on the Board of Directors of Finacity Corporation and on the Executive Committee as Treasurer for Dress for Success Worldwide. Judy has significant wisdom and experience in strategy, finance, management and people development, and is highly valued by business leaders. She is a woman of courage, with an appetite for continuous learning and growth while taking on challenges. Judy has deep experience building strategy and partnerships and is devoted to mentoring the next generation of business leaders. She has been a courageous leader with a strategic mindset always taking the time to develop others and pay it forward. Her insights and expertise will add much to the EWA Network, " said Larraine Segil, Chair and CEO of The Exceptional Women Awardees Foundation.
"Judy is a true business partner, delivering strong counsel and insights to drive strategic decisions and improved financial performance," said Robert Wetherbee, President and CEO of ATI. "Across her career, she led strong teams, growing their expertise and leading critical process and cultural changes. Her enthusiasm for life and her work is inspiring."
The Exceptional Women Awardees Foundation (EWA) selects high potential, upper-career Exceptional Women from multiple industries, develops and mentors them with guidance and career redesign advice to propel them to sustainable success - one woman at a time. Their year-long program enables the EWA to be connected for life to their ever-expanding EWA global network, as they and their fellow women leaders move into positions of significance.
Learn more at The Exceptional Women Awardees Foundation http://www.ExceptionalWomenAwardees.com