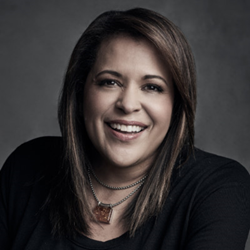 "Alma Derricks held senior management positions at HBO, Paramount, El Rey Network, Deloitte, and Cirque du Soleil," said Larraine Segil, Chair & CEO of EWA
LOS ANGELES (PRWEB) May 04, 2021
The Exceptional Women Awardees Foundation (EWA), announced today that, after interviews with multiple candidates, Alma Derricks, Founder and Managing Partner of REV, has been selected as an Awardee for 2021.
"Alma is an experienced senior executive and market strategist with over 20 years of experience building complementary new businesses at the edges of established media, entertainment, technology, and consumer products companies," commented Larraine Segil, Founder, Chair and CEO of EWA. "Alma has created new businesses and customer strategies for an array of media, entertainment, hospitality, and consumer products companies including Verizon, NBCU, Fox, Redbox, Blue Man Group, Mattel, Amazon, and Southwest Airlines; launched ground-breaking digital networks for Star Trek, Peanuts, and Dilbert; and held senior management positions at HBO, Paramount, El Rey Network, Deloitte, and Cirque du Soleil. She is truly an exceptional woman."
"I am so honored to join the EWA sisterhood, share my experiences, and have an extraordinary opportunity to learn from the amazing diversity of women and industries that are represented by EWA. It's so rare to find such an insightful, nurturing, and powerful network of peers," said Derricks. "While EWA shares my values of inclusion, empowerment, and paying it forward, their mission to propel talented women to achieve both professionally and personally is particularly close to my heart."
REV is a business strategy consultancy that partners with accomplished creators, founders, boards of directors, and leadership teams to navigate competitive inflection points and leverage expertise into distinctive and profitable new ventures
Learn more at http://www.linkedin.com/in/almaderricks
The Exceptional Women Awardees Foundation (EWA) selects high potential, upper-career exceptional Women from multiple industries, develops and mentors them with guidance and career redesign advice to propel them to sustainable success - one woman at a time. Their year-long program enables the EWA to be connected for life to their ever-expanding EWA global network, as their fellow women leaders move into positions of significance.
Learn more at https://www.exceptionalwomenawardees.com