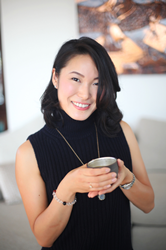 "Nami Yamamoto is the first woman CEO in her company's 330+ years history, as the only child of the former CEO, her father, and has taken on this role aware of her great responsibilities to carry the family name and brand forward with care and excellence," said Larraine Segil, Chair and CEO of EWA.
LOS ANGELES (PRWEB) April 13, 2021
The Exceptional Women Awardees Foundation today announced that after interviews with multiple candidates, Nami Yamamoto, CEO of Yamamotoyama, a 330 + year old company, has been selected as an Awardee for 2021.
"Nami is a unique individual with a one-of-a-kind story and history. She imbues both dignity, appreciation of her legacy and family tradition into the oldest tea company in the world, as she integrates modern management techniques harmoniously with the ancient traditions of quality and taste that permeates everything that Yamamotoyama does. We are delighted to welcome her and her special cultural insights into EWA," commented Larraine Segil, Chair and CEO of EWA.
"I am so happy to be part of this unusual sisterhood of women leaders," added Ms Yamamoto. "After attending college in the USA, I have a deep appreciation for American culture, and the way that it integrates in the Japanese way of doing things. Whatever we do, an excellent cup of tea makes it better. Our Yamamoto and Stash teas as well as the Soy and Seaweed products that we were the first to create for the global market, are a source of pride for our company and my family. I am deeply grateful to be part of this amazing organization."
Learn more at https://yamamotoyama.com/
The Exceptional Women Awardees Foundation (EWA) selects high potential, upper-career Exceptional Women from multiple industries, develops and mentors them with guidance and career redesign advice to propel them to sustainable success - one woman at a time. Their year-long program enables the EWA to be connected for life to their ever-expanding EWA global network, as their fellow women leaders move into positions of significance.
Learn more at https://www.exceptionalwomenawardees.com