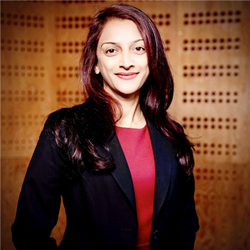 "Tabassum's vast experience in multiple industries and global experience brings innovative thinking and inspired leadership to the Food industry" comments Larraine Segil, Chair and CEO of EWA
LOS ANGELES (PRWEB) November 10, 2020
The Exceptional Women Awardees Foundation (EWA, Los Angeles CA) today announced that, after interviews with multiple candidates, Tabassum Zalotrawala Global Chief Development Officer of Chipotle Mexican Grill has been inducted into the Fall 2020 Exceptional Women Awardee Cohort.
"Tabassum is a creative and detail oriented leader, " commented Larraine Segil, Chair and CEO of The Exceptional Women Awardees Foundation. "Her vast experience in multiple industries and global experience brings innovative thinking and inspired leadership to the Food industry and makes her the kind of exceptional woman for whom we search at EWA."
Chipotle is cultivating a better world by serving responsibly sourced, classically-cooked, real food with wholesome ingredients without artificial colors, flavors or preservatives. Chipotle had over 2,700 restaurants as of September 30, 2020, in the United States, Canada, the United Kingdom, France and Germany and is the only restaurant company of its size that owns and operates all its restaurants. With more than 94,000 employees passionate about providing a great guest experience, Chipotle is a longtime leader and innovator in the food industry. Chipotle is committed to making its food more accessible to everyone while continuing to be a brand with a demonstrated purpose as it leads the way in digital, technology and sustainable business practices.
Learn more at https://chipotle.com/
The Exceptional Women Awardees Foundation (EWA) selects high potential, upper-career Exceptional Women from multiple industries, develops and mentors them with guidance and career redesign advice to propel them to sustainable success - one woman at a time. Their year-long program enables the EWA to be connected for life to their ever-expanding EWA global network, as their fellow women leaders move into positions of significance.
Learn more at http://www.ExceptionalWomenAwardees.com