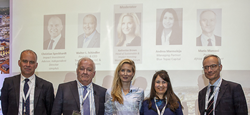 LONDON (PRWEB) June 25, 2019
On June 12, 2019, over 150 investors and industry leaders from Europe and the Middle East gathered in Geneva Switzerland to discuss the future of alternative investments with a focus on agriculture. The AIM Summit has been a leading private conference which until this year had been held exclusively in Dubai and Abu Dhabi. The conference brings together regional hedge funds, private equity, venture capital, and private equity and debt investors and managers with leading industry experts. Because of Europe's thought leadership in sustainability, the Geneva edition had a strong focus on sustainability investing, specifically in agriculture. In addition, Geneva attracted two US speakers noted for their interest in sustainability.
Peter C. Rockefeller opened the conference with a speech on agriculture investing and set a high standard for presenting a well-researched case for improvements in agriculture that would be both profitable and low in risk. Mr. Rockefeller made an especially strong case for investing in farmland.
International corporate lawyer and sustainable investing pioneer Dr. Walter L. Schindler stated that "Peter's speech on agriculture presented the best argument I've heard for investors to participate in this form of impact investing. I think that Peter's speech was effective in igniting excitement around the focus on agriculture."
Other distinguished speakers included H.S.H. Prince Michael of Liechtenstein, speaking on the geopolitical landscape, and Katherine Brown, Head of Sustainable and Impact Investing at the World Economic Forum. The themes of Ms. Brown's panels were "The Evolution of Impact Investing" and "ESG Asset Allocations."
The AIM Summit will continue to expand internationally in the future from its strong base in Dubai and Abu Dhabi. Dr. Schindler stated his view that "Platinum Sponsor Dalma Capital is a visionary investment bank that accelerates the growth of unique alternative investment funds managed with a focus on alpha generating strategies."