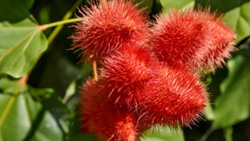 What is so exciting about this study, is that it supports the growing body of evidence that tocotrienols can be life changing.
PALM COAST, Fla. (PRWEB) February 07, 2019
A recent study conducted at Denmark's Vejle Hospital, published in Pharmacological Research, provides evidence of delta-tocotrienol's benefits for cancer patients. Results of the open-label trial suggest that American River Nutrition-manufactured delta-tocotrienol in combination with bevacizumab had additive effects in chemotherapy refractory ovarian cancer, possibly conferred by the anti-angiogenic activity of both compounds. This is the first-ever clinical trial using tocotrienols in ovarian cancer patients.
In the study of 23 advanced-stage ovarian cancer patients, tocotrienol was administered at a dosage of 300mg three times a day, with bevacizumab given to patients at 10mg/kg intravenously every three weeks. Patient disease stabilization was high at 70%, with increased survival, which approximately doubled.
"What is so exciting about this study, is that it supports the growing body of evidence that tocotrienols can be life changing," comments Designs for Health Co-founder and Board President Jonathan Lizotte. "I applaud the Danish government and Dr. Jakobsen and his group for their open-minded and novel approach in using a vitamin in conjunction with a standard therapy. It's this forward thinking that will inevitably result in major breakthroughs for the treatment and prevention of cancer and other life-threatening diseases."
Ovarian cancer is the 5th most common cause of cancer death in women in the US. According to the American Cancer Society, approximately 22,240 women in the US received a new ovarian cancer diagnosis, while approximately 14,070 people died of the disease in 2018. Since ovarian cancer is usually not diagnosed until it is more advanced, the 5-year survival rate is only 47%. Patients with advanced-stage ovarian cancer often have a recurrence of the disease after primary treatment, and despite second and third line treatments, these patients eventually become chemotherapy-resistant with few therapeutic options. The goal at this stage is to improve the quality and duration of life with as few side effects as possible. The study treatment was shown to have low toxicity, with only three patients discontinuing their medications due to well-known side effects of bevacizumab therapy. Further, quality of life was stable.
Commenting on the research, which used their delta-tocotrienol (Delta Gold®), Dr. Barrie Tan, President of American River Nutrition said that "ovarian cancer is one of the most deadly cancers in women, and as researchers, we have to be open to new thinking if we are to make advances in finding alternative treatments." Tan continued, "I have spent over twenty years studying tocotrienols, specifically from the annatto plant, and their positive effects on multiple health issues, but this study is the first of its kind to shed new light onto the way tocotrienols can be used to enhance and prolong life for ovarian cancer patients.
Source: Pharmacological Research
doi: 10.1016/j.phrs.2019.01.017
Delta tocotrienol in recurrent ovarian cancer. A phase II trial.
Authors: Thomsen, C.B., Andersen, R.F., Steffensen, K.D., Adimi, P., Jakobsen, A.
About Delta-Tocotrienol
Delta-tocotrienol is part of the vitamin E family, which consists of eight separate but related molecules: four tocopherols (alpha, beta, gamma, delta) and four tocotrienols (alpha, beta, gamma, delta). Tocotrienols are derived from three major sources, including rice, palm and annatto. Annatto is the preferred source of high-purity delta-tocotrienol.
About American River Nutrition
American River Nutrition, founded in 1998, is the producer of DeltaGold® tocotrienols, the most beneficial form of vitamin E for cardiovascular health, as well as other health benefits. The company is led by Dr. Barrie Tan, a pioneering scientist and researcher credited with identifying the primary sources of plant-based tocotrienols, including rice, palm & the virtually 100% tocotrienol-producing annatto plant. American River products are manufactured in the U.S. using a proprietary process leading to the purest form of natural tocotrienols available. http://americanrivernutrition.com/
About Designs for Health:
Family-owned Designs for Health offers high-quality dietary supplements and medical foods to healthcare professionals and their patients. Guided by its founding philosophy of "Science First," the company holds an unwavering commitment to creating research-driven formulations with meaningful quantities of therapeutic ingredients that maximize the potential for successful treatment outcomes. For nearly 30 years, Designs for Health has been many healthcare professionals' trusted source for not only product innovation, but also leadership in clinical education and practice development solutions. To learn more, visit http://www.designsforhealth.com or call 800.847.8302.
For media inquiries please contact Giselle Chollett:
giselle@adinnyc.com, 212-693-2152.