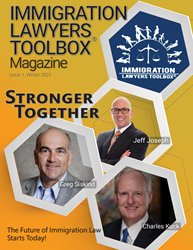 Demand for Immigration Professionals is set to explode as the Biden Administration has proposed a path to Citizenship for 11 Million immigrants in the US without status
LOS ANGELES (PRWEB) February 17, 2021
The Immigration Lawyers Toolbox is announcing the launch of the first Trade Magazine intended to promote and educate professionals in the Global Migration space, including Attorneys, Paralegals, and Consultants, to better understand the complexity of US and Global Migration and to help promote players in this space that are making a difference. Given the upcoming immigration reform in the US, this magazine serves as a source for up to date trade information and education. The first issue is available at https://immigrationlawyerstoolbox.com/magazine
Immigration law has been changing at its fastest pace in history. Even with the end of the Trump Administration and its anti-Immigration policies, many minor and major changes are coming to the US and global migration systems due to the pandemic and changing economic conditions. Having a centralized source to guide professionals to navigate the changes in the immigration field, and to help promote the leaders in the field, has become a necessity.
The Immigration Lawyers Toolbox Podcast, Training Courses, and now Magazine, provide up-to-date resources for professionals to stay abreast of the latest information in the field, as well as a method of promoting themselves within the field and to the general public.
Demand for Immigration Professionals is set to explode as the Biden Administration has proposed a path to Citizenship for 11 Million immigrants in the US without status. The need to provide legal education to new and existing Immigration Lawyers and Paralegals is urgent in light of such upcoming legislation.
"There needs to be a dedicated resource that is intended to support and uplift professionals in this field that understands their individual needs," said John Khosravi, President of the Immigration Lawyers Toolbox and Managing Attorney of the JQK Immigration Law Firm (JQKLaw.com). "The Magazine and its related products are created by immigration professionals for immigration professionals."
The first issue can be read or downloaded at https://immigrationlawyerstoolbox.com/magazine. For information on Article Submission or Sponsorship, please email Info@ImmigrationLawyersToolbox.com
About the Immigration Lawyers Toolbox®
The Immigration Lawyers Toolbox offers Immigration Law education and training, news, and business development knowledge. This service was created to support the over 20,000 attorneys identifying themselves as immigration lawyers in the US, and their support staff of paralegals, assistants, and other professionals.