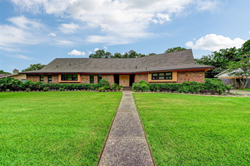 "We feel extremely honored to have been part of the sale of this iconic home," said Lance Loken, CEO of The Loken Group
HOUSTON (PRWEB) September 09, 2020
Famous American astronaut Neil Armstrong's former home in El Lago, Texas, has been sold, announces The Loken Group at Keller Williams Platinum Realty.
After just a week on the market, the listing received 16 showings, 7 offers, and sold for 7% over list price. "We feel extremely honored to have been part of the sale of this iconic home," said Lance Loken, CEO of The Loken Group. "We received a ton of interest, and it will be a very special home for the new owners."
Just over 51 years ago, iconic American astronaut Neil Armstrong became the first person to ever step forth onto the lunar surface. Since Armstrong moved to teach at the University of Cincinnati shortly after the Apollo 11 program concluded, the house has been passed down through a number of owners; all of which made only minor renovations to maintain the iconic historic home.
"The City of El Lago is rich in history," said the seller. "We are fortunate to have had the privilege to be the caretakers of this historic home for over 22 years. Although we have made beautiful updates to the kitchen and flooring throughout the home, we have been diligent to maintain the unique character and charm of the home."
The sellers passed the baton of this historic home over to the excited new owners in mid-August.
The Loken Group, a team of specialists out of the Keller Williams Platinum office, serves real estate buyers, sellers, and investors in all 9 counties in the Greater Houston Area. They were ranked No. 1 in the Houston Business Journal's 2020 Top Residential Real Estate Large Teams ((based on Sales Volume in 2019 - $628.79 million and Units in 2019 – 2,393 closed transactions); and No. 1 in America by 2020 REAL Trends + Tom Ferry The Thousand, as advertised in The Wall Street Journal (Large Teams by Transaction Sides in 2019 – 2,384.50). In 2020, Keller Williams Realty International named The Loken Group No. 1 in the world for non-expansion group (based on 2019 closings, volume, and units). For more information about The Loken Group, please visit our website, http://www.TheLokenGroup.com.