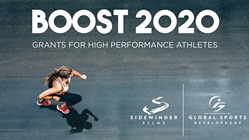 "With our BOOST2020 grant program, we can pivot our funding to provide support to athletes who are most in need." - Dr. Steven Ungerleider, GSD executive board member
LOS ANGELES (PRWEB) July 22, 2020
The Foundation for Global Sports Development (GSD) is launching a new grant program, BOOST2020, designed to support high-performance athletes whose lives have been negatively impacted by the COVID-19 pandemic. Athletes who were poised to compete at the Summer Games have been blindsided by the sudden drop in training and competitions, and many are having to forgo training to focus on other pressing issues as a result of the pandemic. GSD intends to support these athletes and encourage them to continue their training with a renewed focus.
The BOOST2020 grant program will temporarily replace the foundation's annual Athletes in Excellence Award Program, which recognizes active or retired athletes who have demonstrated remarkable volunteerism or mentorship.
"COVID-19 is presenting unique challenges to our sporting community, especially for those elite-level athletes who were training for the Summer Games. We've decided to adjust our award program to meet the needs of this community," said Dr. Steven Ungerleider, GSD executive board member. "With our BOOST2020 grant program, we can pivot our funding to provide support to athletes who are most in need."
"The purpose of our BOOST2020 grant is to offset income losses experienced by the athletes," explained David Ulich, GSD executive board member. "We know there are promising athletes whose aspirations for the Games are in jeopardy. We hope to help those athletes meet their basic needs – housing, food, and well-being – so they can refocus on training."
The application round opens today, July 22nd. Athletes over the age of 18 are eligible to apply. In total, ten athletes will receive one-time grants of $10,000. More details on eligibility and requirements can be found on GSD's website at http://www.globalsportsdevelopment.org/boost2020-athlete-grant-program.
Final selections will be guided by an Advisory Board, which includes the following members:

Carol Brown (Counselor)
Reynaldo Brown (Retired Olympian – High Jump)
Xavier Gonzalez (Deputy Managing Director, Sports & Event Learning and former CEO of the International Paralympic Committee)
Karin Korb (Retired Paralympian – Wheelchair Tennis)
Steve Mesler (Retired Olympian – Bobsledding and Founder of Classroom Champions)
John Moffet (Retired Olympian – Swimming)
Gabrielle Sabharwal (Publicist and PR Director)
Athletes can learn more about the grant and start their application at http://www.globalsportsdevelopment.org/boost2020-athlete-grant-program/. Applications must be submitted by midnight PDT on August 10, 2020.
About Global Sports Development and Sidewinder Films
The Foundation for Global Sports Development and Sidewinder Films leverage the impact of philanthropy and the power of film to promote sportsmanship, education, fair play and ethics among the world's youth. Giving special emphasis to groups and communities that are most in need or most underserved by current programs, the foundation strives to include women, minorities, and youth in its mission. The foundation's media division, Sidewinder Films, supports this mission by producing groundbreaking documentaries that bring untold stories to the international community. Visit http://www.globalsportsdevelopment.org and http://www.sidewinderfilms.org to learn more.