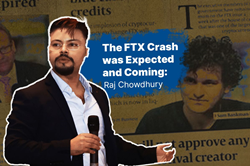 FTX collapse was a cautious stable movement. It is not a surprise that these companies are falling apart.
PALO ALTO, Calif. (PRWEB) January 10, 2023
Fluctuating markets, exchange crashes, and the Terra fallout led to a crypto bloodbath throughout the previous year. However, the FTX crash, arguably the biggest crypto disaster in terms of capital loss, lacks an impact proportional to its magnitude. Raj Chowdhury expressed his displeasure with the gross mismanagement of investor assets that led to FTX squandering its $32 billion wealth to eventual bankruptcy. He also added that the impact of this isolated incident, which was years in the making, would not be reflected on other crypto exchanges and enterprises.
SBF was accused of using client assets to lend in risky trading bets before news of the FTX crash became public. The absence of crypto regulatory frameworks enabled access to these assets, and long-term misappropriation worsened the situation. SBF had once made a career out of crypto arbitrage, but this misutilization eventually led to his downfall. Exchanges like PayBito or Coinbase, which safeguards and segregates investor assets, will never deal with the issues faced by FTX.
There have been calls of crypto fraud against Bankman-Fried for transferring assets including customer funds exceeding $4 billion into his trading enterprise Alameda Research, whose assets included several illiquid altcoins along with FTX's native crypto token FTT. To make matters worse, hackers attacked the exchange, stealing at least $477 million.
The PayBito CEO, Raj Chowdhury, stated, "FTX collapse was a cautious stable movement. It is not a surprise that these companies are falling apart." He had previously highlighted the need to improve security in crypto ventures, and how awareness and education on digital assets can prevent scams.
The former FTX chief was charged with 8 counts by US federal prosecutors after his arrest, including financial crimes, money laundering, and fraud. SBF may continue to plead not guilty, but it does not change the fact that FTX still owes money to over 1 million creditors and contributed to at least an $8 billion loss for the customers. The Bahamas-based crypto exchange had previously filed for Chapter 11 bankruptcy.
PayBito, which prioritizes investor asset protection, has garnered recognition as a provider of white-label crypto exchange solutions to institutional investors planning to leverage business growth opportunities from digital assets. It has enjoyed strategic alliances and collaboration with enterprises from over 26 nations including Sweden, South Korea, Australia, and more.
The Securities and Exchange Commission has decided to launch an investigation into the FTX implosion, with SEC Chair Gary Gensler reiterating the need for adequate safety measures for investor assets. The US Feds have also formed a special task force to trace stolen FTX assets. The lack of clarity around existing crypto laws pushes businesses to shift their trading operations offshore. The crypto community needs compliance laws not only for adherence and restoring investor confidence but also for framework standardization.