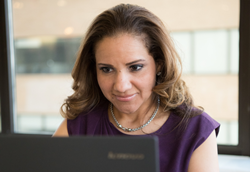 Providers already know that patient satisfaction is influenced by much more than clinical experiences. They're awakening to the fact that digital strategies must deliver at every patient touch point, in every dimension, throughout the patient's care journey. - Kevin Fleming, CEO, Loyale Healthcare
LAFAYETTE, Calif. (PRWEB) October 21, 2020
The explosive growth of telehealth since the COVID-19 crisis began has been well documented. At its peak in April, 2020, the number of claims for telehealth services were more than eight thousand percent higher than the same period the previous year. Driven by restrictions associated with the national emergency, capacity challenges, patient concerns about the safety of in-office visits and stay-at-home orders, telehealth immediately became the go-to resource for providers and patients whose interactions demanded prompt attention.
For every stakeholder in the American healthcare system, the big question now is whether this universally praised care delivery channel will become a permanent part of the healthcare landscape after the COVID-19 public health emergency. But with patients, providers, industry groups, and government all calling for permanent support, the future of telehealth and other virtual care channels looks bright.
The extreme nature of events over these last seven or eight months have compressed what might have taken years into mere weeks. In the days following the proclamation of the public health emergency, the government took steps to address a disruption in the accessibility of care. And healthcare providers responded by ramping up non-contact care delivery channels that, until then, had been little more than a sideline. What resulted was an explosion in the adoption of virtual care and the recognition of an important new operating model for a financially stressed industry.
Given how quickly this has happened, it's understandable that the wider implications of virtual care have not been given much attention. But as healthcare providers plan for the future beyond COVID-19, their virtual care strategies must expand to include every dimension of the patient care experience. By integrating patients' medical, financial and administrative experiences into one consumer-friendly digital experience, providers and patients will realize all the promise that telehealth offers – improved access and affordability for patients, and financial sustainability for providers.
The Birth of a New Healthcare Operating Model
The stunning success of telehealth during the pandemic would not have been possible without special support from Medicare and Medicaid, the largest source of healthcare revenue in the country. As part of the Coronavirus Preparedness and Response Supplemental Appropriations (CARES) Act, on March 6, Medicare introduced a temporary, emergency waiver to "ensure that all Americans – particularly those at high risk of complications from the virus that causes the disease COVID-19 – are aware of easy-to-use, accessible benefits that can keep them healthy while helping to contain the future spread of this virus."
Under the waiver, Medicare – which had previously only paid for telehealth on a limited basis – authorized payment for a wide range of healthcare services for office, hospital and other visits furnished via telehealth across the country. Essentially, by authorizing equal payment (reimbursement) for telehealth visits that would customarily have been conducted in-person, Medicare and its parent agencies created a financially viable channel for providers. At a stroke, the issuance of the waiver opened the door for patients who needed a safe, accessible way to get care and for providers whose revenues were being crushed by the cancellation or postponement of nearly all elective and nonessential services.
Medicare is not letting up. Just last week, on Oct. 14, the Centers for Medicare and Medicaid Services (CMS) expanded the list of telehealth services that Medicare Fee-For-Service will pay for during the coronavirus disease 2019 Public Health Emergency. Enacted as part of a new, expedited process published on May 1, these eleven new services are listed on the CMS website, and bring the total of telehealth services covered under the waiver to 144. Noting that it has seen skyrocketing adoption from Medicare recipients (36% of seniors had used a virtual visit), It is clear that many Americans of all ages have embraced virtual care delivery.
As noted above, the waiver authorizing expanded payments for telehealth services is temporary, but more recent CMS action has begun to permanently waive reduced pay for certain services beyond the public health emergency. In the CMS release announcing the eleven new services, CMS Administrator Seema Verna stated that, "…This revolutionary method of improving access to care is transforming healthcare delivery in America," and concludes by declaring that the administration "will not let the genie go back in the bottle."
Congressional action is also under way to help make sure the genie doesn't go back in the bottle. A bipartisan house bill, the "Protecting Access to Post-COVID-19 Telehealth Act of 2020," was introduced on July 16 to "expand the promise of virtual care, even once the pandemic has subsided, by eliminating restrictions, ensuring access and studying its ability to address disparities and improve outcomes."
The proposed legislation, which met with wide approval from healthcare groups, focuses on establishing the patient's home as an eligible distant site so they can receive care at home and doctors can still be reimbursed; preventing the sudden loss of telehealth services; making permanent the disaster waiver authority; enabling the Department of Health and Human Services (HHS) to expand telehealth in Medicare during all future emergencies and disasters; and requiring a study on the use of telehealth, including costs, uptake, outcomes and racial/geographic disparities.
Holistic Patient Care in a Consumer Driven Market
At the same time that the Center for Medicare and Medicaid Services (CMS) has been promoting the use of telehealth, it has continued to pursue improved provider resources to empower healthcare consumerism. We published analysis earlier this year that addressed these rules. In, "The American Healthcare System's 800-pound Gorilla Has Spoken," we noted CMS's tenacious pursuit of regulations to promote patient consumerism. We also noted the inadequacy of these early regulations to deliver a truly patient/consumer-centered experience.
Regardless, CMS's transparency rules and future guidance point toward healthcare's inevitable transformation into a consumer-driven industry. It is this expectation that will drive the development of holistic digital health strategies that empower consumers and meet providers' requirements for operational and financial sustainability.
The digitally-enabled consumer's demands don't begin and end with the office visit. CMS's rules, and a simple patient/consumer flow analysis make it perfectly clear that the patient's experience – digital or actual – begins when they look for care. That experience is informed by reliable information about price and quality. And the experience doesn't end until the patient's financial obligation has been fulfilled. Providers already know that patient satisfaction is influenced by much more than their clinical experiences. Now, they're awakening to the fact that their digital strategies must deliver at every patient touch point, in every dimension, throughout the patient's care journey. This is true whether care is delivered physically or virtually.
Virtual Care's Financial Win-Win
Our company, Loyale Healthcare, partners with large health systems to offer patients and staff a fully-functioning, digital, end-to-end patient financial experience. These blend seamlessly with the other dimensions of the patient's clinical and other care experiences. By integrating with multiple Medical Record and discrete payment and billing systems, the Loyale Patient Financial Manager™ platform enables much more than compliance with CMS's short-term rules for transparency. It gives providers the digital tools they need to fully engage with an increasingly discerning healthcare consumer. Critically, these capabilities come at a time when competition for these consumers (and their revenue) is becoming more and more prominent (Walgreens Health, CVS Health, Walmart Health, etc.)
In addition to enhanced competitiveness in an increasingly consumer-driven market, these automated systems radically reduce expenses for patient billing and collection. More importantly, their simplicity and ease-of-use make it easy for patients to understand, plan for and pay their medical bills. By connecting virtually with patients' financial experiences, Loyale clients raise their patients' satisfaction, reduce work and its associated expense and improve their financial performance.
As we look forward to the next normal following the COVID-19 pandemic, it is clear that digital, virtual experiences will become a mainstay in the portfolio of care delivery services in America. Complemented by virtual solutions affecting the non-medical elements of the patient journey, consumer acceptance will continue to grow and the opportunity to leverage this exciting new channel will expand. We're excited about that future and the role we're playing in making it a reality.
Kevin Fleming is the CEO of Loyale Healthcare
About Loyale
Loyale Patient Financial Manager™ is a comprehensive patient financial engagement technology platform leveraging a suite of configurable solution components including predictive analytics, intelligent workflows, multiple patient financing vehicles, communications, payments, digital front doors and other key capabilities.
Loyale Healthcare is committed to a mission of turning patient responsibility into lasting loyalty for its healthcare provider customers. Based in Lafayette, California, Loyale and its leadership team bring 27 years of expertise delivering leading financial engagement solutions for complex business environments. Loyale currently serves approximately 12,000 healthcare providers across 48 states. Loyale is proud to have an enterprise-level strategic partnership with Parallon which includes the deployment of Loyale's industry leading technology at all HCA hospitals and Physician Groups.