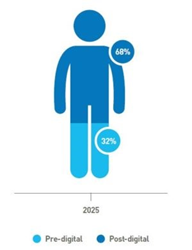 Passengers will demand more autonomy as they travel and expect more self-service options with chatbots and other AI support.
NEW YORK (PRWEB) October 02, 2019
Our fascination with flight, coupled with the demand for greater speed, personalization, and end-to-end seamless travel, continues to push the boundaries of physics and technology. This is what will fuel the future of travel. Imagine a flight from New York to London in three hours or Tokyo to San Francisco in less than six. According to British Airways and SITA, a leading specialist in air transport communications and IT, these and other advancements in air travel will be realized in the next decade. ExpertFlyer.com took a closer look at recent studies from both organizations to learn more about the trends, technology, and projected decrease in human interaction among passengers they anticipate in the future.
According to SITA, 68% of the world's population will include "post-digital" generations (born since 1981) raised with technology in nearly every phase of their lives. The study also finds that they are less likely to want face-to-face interactions unless absolutely necessary and will rely almost exclusively on technology to autonomously achieve everyday activities. Barbara Daliband, CEO of SITA, says this paradigm shift in human behavior will have the greatest impact on the travel industry as a whole.
"Passengers will demand more autonomy as they travel and expect more self-service options with chatbots and other AI support," explains Ms. Daliband. "Travelers no longer want an experience that is compartmentalized. They want a seamless experience throughout the travel process. Fundamental to meeting these demands is a requirement for more efficient operations and collaboration across all aspects of the travel industry."
Bayram Annakov, CEO & Founder of App in the Air, a popular travel app for frequent fliers, concurs. "Third-party apps will create a more efficient booking process by aggregating flights from across the industry. By utilizing AI technology, we are able to learn the preference of travelers and provide them with their preferred flights and make travel more seamless."
Of course, advancements in technology will be prevalent across all areas of the travel industry but none more evident – and controversial – than biometric technology at TSA checkpoints. According to SITA, a digital travel credential is being developed by the International Civil Aviation Organization (ICAO) and the international Air Transport Association (IATA) is working on One ID, an initiative to streamline the ID process at all phases of a traveler's journey based on identity management and biometric recognition.
Flight of the Future, a new report from British Airways and parent company, IAG, paints an interesting picture for the future of air travel including jet propulsion technology, Smart Cabin technology, supersonic travel as the "norm," and inventive ways of making air travel environmentally friendly.
"Going forward, passengers may increasingly be able to tailor their experience to more specific needs," says Peter Cooke, Design Lead, British Airways. "Instead of buying a first or business class ticket, it might be about buying more space, more significant entertainment or service, similar to hotel rooms. You will be able to create an experience package much differently than you do today."
The report also shows that Smart Cabin components with embedded sensors will certainly change how passengers interact with their environment and suggests a responsive cabin will adapt to a passengers' ergonomic needs, proactively change ambiance, or increase comfort with intelligent seats and activity areas.
"In addition to being raised with technology in most aspects of their lives, the 'post-digital' generation also discovered an insatiable desire for travel and adventure," said Chris Lopinto, president of ExpertFlyer.com. "Combining the need for autonomous technology and the desire to explore, this new generation of consumer is creating both a challenge, and an enormous opportunity for the travel industry as a whole. Personally, I believe the travel industry will rise to the occasion," Mr. Lopinto added.
Growing public awareness of environmental issues and their consequences has led consumers across the world to ask themselves what they can do to reduce their impact. As the effects of climate change become increasingly visible, consumer concern will only grow.
BA's study also reveals that consumers are willing to take measures to reduce their environmental impact, such as choosing the more environmentally friendly travel option even if it costs them more. In fact, no less than 43% of respondents say they would purchase the eco-friendliest flight available, even if it would be the most expensive option they could afford. Meanwhile, 45% of consumers would be happy to opt for a flight that got them to their destination slower than other options, if it were the most environmentally friendly.
To learn more about changes in travel in the future, visit ExpertFlyer's blog.
About ExpertFlyer.com
Each month, ExpertFlyer's One-on-One blog goes face-to-face with the travel industry's leading decision makers to discuss and address topics relevant to many of today's business and frequent travelers.
ExpertFlyer.com was conceived and created by an eclectic team consisting of a veteran elite tier frequent flyer, an airline captain and corporate travel manager, and information technology professionals to deliver a 24/7 real time powerful air travel information service. The company provides its subscribers and corporate travel managers alike with a complete, concise and efficient way to access the ever-changing details of worldwide air travel information. For more information, please visit expertflyer.com.
Stuck in the middle seat again? Download the free Seat Alerts app from ExpertFlyer and get the window or aisle seat without hassle or frustration.