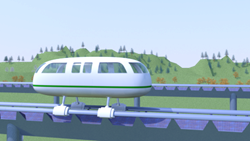 never before seen video showing the viewer how the Golden Ration is the foundational design of the HSH rail system
BRIGHTON, Mich. (PRWEB) September 18, 2018
The Interstate Traveler Company presents the Hydrogen Super Highway in a never before seen video showing the viewer how the Golden Ratio is the foundational design of the HSH rail system. The video illustrates how the HSH uses the most efficient MagLev system ever proposed by sequencing a repeating radial array of magnetic fields.
This video also shows the scale of the HSH system compared to historic rail and highway transportation systems and shows the viewer how the HSH enables simultaneous multi-modal transports on a common standardized elevated rail system.
This video is published with no audio.
See for yourself how the HSH is made to revolutionize public transportation by visiting the company YouTube channel with the following link:
HSH Elevated Rail Systems - Magnetic Levitation by Repeating Radial Array of Electromagnetic Fields
https://www.youtube.com/watch?v=IHOw4AVTOT0
Please visit the company website to learn more.
Staff Writer
Interstate Traveler Co. LLC
http://www.HydrogenSuperHighway.com
@HSHElevatedRail
Info(at)InterstateTraveler.us