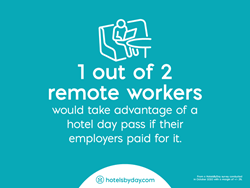 Burnout is real. Employees can really benefit from some time working away from home.
NEW YORK (PRWEB) December 02, 2020
With remote work here to stay until at least mid-2021, companies are rethinking work perks for a newly-remote workplace. But are worker wants and employer needs aligned?
HotelsByDay asked 1,109 remote workers to see how well companies were translating their cultures into the remote workplace. Here are the results of the Future of Work Perks Survey.
OFFICE LIFE vs REMOTE WORK
To benchmark remote life against the beforetimes, we asked what workers missed the most - and least - about the office. There are some things we miss about office life: collaboration with colleagues (33%), free coffee (15%), and the team camaraderie (34%). And some things, not so much: the commute (43%), wasting time in meetings (27%) and meeting face-to-face with clients (13%)!
PRODUCTIVITY AND BURNOUT
It's kind of hard to believe but the majority of respondents felt that their productivity remained high. Ten months into remote work, 39% said they were more productive than ever, with 34% "getting the hang" of WFH life but not necessarily thriving. That leaves one in four respondents is taking it day by day when it comes to productivity.
Remote workers are spending too much time working -- and not enough time recovering:
-1 in 4 workers are already burned out and 4 out of 10 are "nearly there" when it comes to burnout.
-That leaves 3 of 10 workers that aren't yet burnt out -- but aren't exactly thriving. 
The relationship between burnout and productivity is real. One way to manage burnout is to align office perks with the realities of the remote workplace - the next section of our survey!
PANDEMIC WORK PERKS: FLEX HOURS, EXTRA DAYS OFF, HOTEL DAY PASSES
Managers looking to banish burnout have a few options: transparent communications so employees feel comfortable sharing struggles, a flexible approach to when and where work gets done and tailoring employee perks to the remote workplace.
When we asked employees to compare their favorite office perks to the ones that they prefer at the remote workplace, here are the top takeaways:
1. Flexibility. Above all else, workers prized flexibility in when and how they got work done. The flexibility to set their own work hours was at the top of the list.
2. Extra days off. With so many workers struggling family responsibilities alongside work, the second most popular remote work perk or extra personal days for self-care and family duties. 
3. Reimbursement for Internet. Working from home requires a reliable Internet connection, something that can be quite difficult to secure a plan multiple people are working and learning from home.
4. Home office stipend. Helping workers transform them into office was the fourth most popular remote work perk. By offering a stipend to improve the home office, employers can help employees boost productivity and creativity. 
5. Alternative workplaces. Rounding out the top five was reimbursements to work elsewhere, like a hotel or co-working space.  No matter how well Almas this is the sign, sometimes you just need to get out of the house. Giving employees the option to work elsewhere is a productivity-enhancing, burnout-reducing pressure valve.
WHAT THIS MEANS FOR COMPANIES
Remote work perks are much different than standard office perks. Workers are stressed out and living day-to-day. To protect employees from burnout, companies must rethink their wellness programs and provide perks aligned with remote work.
We're obviously biased but providing alternative workspaces gives employees a break from work-from-home-tedium. Even just one or two days a month out of the house can work wonders for boosting morale and productivity -- and keeping burnout at bay.
While catered lunches and other perks are nice touches, the Holy Grail is that "flow state" that comes from focused work. Give employees the headspace they need to both restore their mental health and create their best work!