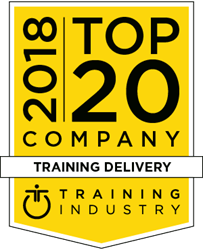 STAMFORD, Conn. (PRWEB) August 02, 2018
Training Industry, Inc. named The Game Agency (TGA) to its prestigious Top 20 Training Delivery Companies of 2018. The selection recognizes TGA's award-winning, game-based solutions that are transforming professional education.
"Our mission is to empower training industry professionals with the game-based tools they need to be successful, and in so doing, help their employees learn better and thereby perform better. Being included in the top 20 list with other respected industry leaders further validates the rise of game-based learning from a nice-to-have to a must-have", said Richard Lowenthal, Managing Partner. "We bring our gaming DNA to every project we undertake for our clients, whether they employ our custom solutions, our game authoring tool (The Training Arcade™), or our gamified learning management platform (Motivate Cloud™). TGA games catalyze learning and maximize the return on investment for L&D budgets."
Selection to the 2018 Top 20 Training Delivery Companies List was based on the following criteria:

Value of platform features and capabilities
Quality of analytics and reporting
Company size and growth potential
Quality of clients
Geographic and vertical reach
"This year's Top 20 training delivery companies offer innovative platforms that accommodate various types of learners across a wide variety of training modalities and technologies," said Ken Taylor, president of Training Industry, Inc. "These providers deliver training solutions through a combination of methods that are strategically aligned with company goals and that optimize learning retainment, which, in turn, supports optimal work performance."
Over the past year, The Game Agency has also been awarded the Top 20 Authoring Tool from Training Industry for The Training Arcade, the Best Sales Training Solution at the Learning Solutions Conference, Best Immersive Simulation at the DevLearn Conference, and Gold, Silver, and Bronze at The Serious Play Conference. The Game Agency was also selected as one of Inc 500's Best Places to Work in 2018.
About Us: The Game Agency (TGA) is a development studio that creates educational games which complement and improve eLearning, instructor-led training, and micro-learning. TGA games provide emotionally and intellectually stimulating experiences for employees and students to actively engage with educational content. Just as important, its analytics dashboards track the data educators need to measure the effectiveness of their initiatives and course correct in a targeted and timely manner.