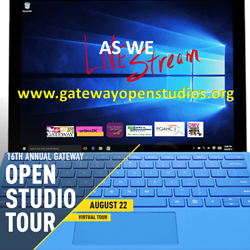 Live Performance by Sylver Logan Sharp
NORTH BRENTWOOD, Md. (PRWEB) August 22, 2020
The Collective of Gateway Arts District: Prince George's Arts and Humanities Council, Hyattsville CDC, Red Dirt Studio, Pyramid Atlantic Art Center, and Portico Gallery and Studios are pleased to announce the first Virtual Gateway Open Studio Tour (V-OST). For 15 years the coordinators of the "Gateway Open Studios Tour" have invited visitors to the studios of visual artists, galleries and art centers located throughout the Gateway Arts District. This year, because of the COVID-19 Pandemic, we have cancelled the face-to-face tour and replaced it with a virtual tour. Join The Collective, with world renowned Jazz pianist Marcus Johnson, and Gateway performance and visual artists on Saturday, August 22, 2020, 11:00 am – 5:00 pm, at GatewayOpenStudios.org. The tour will open with a performance of "We Shall Overcome," composed and performed by Joseph Joubert, musical Director of "Motown the Musical." Members of the press are invited to attend a press conference at 10:30 am. Registration is required for the press conference. (registration link) A unique link will be forwarded upon completion of the registration.
We hope our first ever online tour will continue the celebration of the visual arts and creative process, and offer a look behind the scenes into the life of participating artists. Visitors will be able to enjoy entertainment from our performance artists, and purchase high quality, handmade artwork from websites and online shops as well.
In addition, there will be live panel discussions, streams of visual art, and performances on the Gateway ArtBeat Stage, including the following panels: How COVID-19 Impacted You and Your Art: The Pros & Cons: Black Lives Matter Movement & It's Impact on Black Artists Living and Working in the Gateway Arts District; and Marcus Johnson Presents FLO… (For the Love Of), his audiobook; Visual artists from Gateway CDC Studios, Red Dirt Studio, Portico Gallery and Studios and Otis Street Arts Project will share live streams, and the Artists' Loft will share live performances and Visual art. The Gateway ArtBeat Stage will also be streamed live (Livelink)
Don't miss this opportunity to support the special artists who have come together to share their work with you in a unique manner. Let them know that you support their work, their art, and their lives. Together we can rise, while we lift the wings of our arts community by visiting the first Virtual - "Gateway Open Studio Tour."