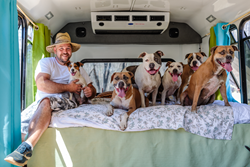 We recognize that you're struggling during a difficult time and we support you.
OAKLAND, Calif. (PRWEB) November 01, 2019
On Sunday, October 27, BADRAP, a community-based dog owner advocacy group that specializes in Pit Bull type dogs, presented non-profit Yes We Can World Foundation with a donated transit bus to support their unique border school for migrant children. Five other individuals had already been selected to receive a converted bus to support them after losing their homes.
"Pit bull owners know what it feels like to be stereotyped and marginalized. Helping displaced dog owners secure emergency housing during our housing shortage and young migrants get access to education is our way of saying, 'We recognize that you're struggling during a difficult time and we support you,'" said BADRAP director, Donna Reynolds.
The migrant education group Yes We Can World Foundation will use the donated bus to transport children to their mobile school classroom, which was created from a converted coach bus. They launched the first bilingual education program in July 2019 and currently provide classes for 84 children who are living at a shelter with their families in Tijuana, Mexico while waiting for asylum hearings. A humane education component (companion animal care) developed by BADRAP educators will be added to the school's curriculum.
"This gift feels god sent because now we can expand our program and help kids who've been in limbo in a second shelter. They've missed months of school waiting with their families for a chance to seek asylum in the US. Our new class will start on December 2019 and we'll kick it off by bringing 30 new students ages 5-15  to the Yes We Can Mobile School grounds," explained the group's director, Estefania Rebellon.
BADRAP acquired a small fleet of retired county transport buses in February 2019 and converted several into emergency housing units with furnishings and solar power to shelter dog owners displaced by crises beyond their control, including the Butte County Camp Fire. Two Camp Fire survivor families are currently living in converted buses with their pets on their own property while they rebuild, and two others are living in their buses on rented property. Another dog owner who survived the Camp Fire with her Pit Bull has been able to transition to secure housing since being matched to a bus.
Rebellon remarked, "In times when the US is so divided, this unusual partnership between an animal-focused nonprofit and an education nonprofit working at the border is proof that kindness does not take sides when the needs are greater than what divides us."
BADRAP has two more converted 'Bus Homes' that have been readied for disaster response work. Interested parties can inquire about the buses at BADRAP's website. For more information on beneficiaries of the nonprofit's dog owner support focus, read about the Keep'Em Home mission.
About 'BADRAP'
Best known for its work with the federal government in 2007 to evaluate and provide rescue options for surviving dogs from NFL player Michael Vick's dog fighting operation, BADRAP is a nationally recognized resource for both dog owners and animal shelters. BADRAP's 'Keep'Em Home' program provides resources and support to committed but under-served families who wish to stay committed to their dogs.
About 'Yes We Can World Foundation'
Yes We Can World Foundation has created the Yes We Can Mobile Schools program an innovative educational concept in which the nonprofit turns coach size buses into mobile schools. They currently run the first bilingual school program for migrant children at the US - Mexico border. In the three months of its operations the program has provided full time bilingual educational aid for 84 children at 1 shelter in the border city of Tijuana Mexico. The children range from 5 to 15 years old and come from Honduras, Guatemala, El Salvador, and different states of Mexico. Some have travelled more than 2,000 miles to reach the US - Mexico border in the hopes of seeking asylum in the US.