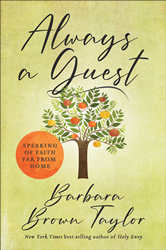 "To hear Barbara Brown Taylor preach is a gift that most are fortunate to receive once or twice in a lifetime."
LOUISVILLE, KY (PRWEB) October 20, 2020
Although she left parish ministry years ago, beloved author and Episcopal priest Barbara Brown Taylor found her preaching life reborn as a guest preacher. Promoting her books, including the New York Times bestseller, Holy Envy, provided Taylor the opportunity to preach across the United States and beyond, to all types of churches, different denominations, and university and college chapels. On preaching as an outsider, Taylor writes "all of these uncertainties unpack my bags until there are only a few things left: a sacred text, a trust in the Spirit, an experience of being human, and the desire to bear good news."
These stories and sermons as a guest preacher are collected in her new book, Always a Guest: Speaking of Faith Far from Home, available now in a beautiful jacketed hardback from Westminster John Knox Press. Throughout these thirty-one sermons from the past fifteen years, Taylor points to the gifts of loosening denominational bonds, discovering new cultural touchpoints, and the freedom to preach without fear.
A true gift for pastors, Christians, and fans of Taylor, Always a Guest received a starred review from Library Journal: "Taylor's writing is lyrical and compelling, a feast for the senses and the intellect." The sermons explore love, resurrection, polarization, belief, and more, with Foreword Reviews calling it "a pitch-perfect sermon collection for these anxious times."
While these sermons certainly provide preaching inspiration, the collection also offers fans of Taylor's other books material to use as devotional reading, deepening their faith through reflection. "To hear Barbara Brown Taylor preach is a gift that most are fortunate to receive once or twice in a lifetime," says David Dobson, publisher of Westminster John Knox Press. "This collection of her recent sermons, then, is like a gift that one can open whenever needed."
Barbara Brown Taylor is an Episcopal priest, professor, author, and theologian and is one of the best-known preachers in the United States. In 2014, TIME included her on its annual list of Most Influential People; in 2015, she was named Georgia Woman of the Year; in 2018, she was named one of the world's twelve most effective preachers in a landmark survey of clergy by Baylor University. She is the author of many books, including New York Times bestsellers Leaving Church, An Altar in the World, and Holy Envy.