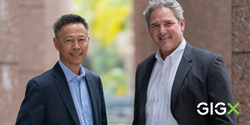 "By accessing a pool of executives who are director level and above, companies have a great deal of flexibility in bringing in a diverse team of C-level leaders." - John Fox, Co-Founder of GigX.com
IRVINE, Calif. (PRWEB) January 05, 2019
The gig economy is booming as technology is experiencing rapid growth, giving rise to a new sector of gig workers.
With so many startups and new companies seeking experienced leadership roles, director-level and C-suite executives are in high demand. However, top-level executives are expensive. Hiring a chief operating, financial or marketing executive is not typically within a new company's budget. Oftentimes, the founder or CEO has to take on multiple roles within the company.
In recent years, a new crop of executives are also taking advantage of the demand for fractional CxO roles, with the "x" in CxO defined by the role of the C-level position. Across the globe, CxOs have been intrigued by the potential control and flexibility the gig economy offers and, as a result, many have become members of GigX, the world's #1 fractional CxO directory. Founded by fractional executives John Fox and Chuck Lee, GigX is a perfect solution to the gig economy's demand for C-suite executives.
"It's hard to find good talent out there right now, and this is a good thing for smart companies and smart people," says John Fox. "By accessing a pool of executives who are director level and above, companies have a great deal of flexibility in bringing in a diverse team of C-level leaders. These team members can focus on specific roles that help the company to thrive through various growth stages."
Due to the demand for experienced leadership, GigX was soft launched in November of 2018 and has been attracting top-level executives from around the world. Companies now have the ability to find director-level and C-suite talent to fill leadership gaps in their organizations at a fraction of the cost of hiring full-time executives.
"Fractional executives leverage all their knowledge and a full network of resources, just like traditional full-time executives," says Chuck Lee. "Companies that understand and embrace this reality are truly the direct beneficiaries."
With over 70 searchable chief executive roles on GigX, companies are able to connect directly with highly skilled officers after viewing their complete profiles. A completely unique employee directory, GigX offers the public free access to the directory. Additionally, fractional CxOs only pay a nominal fee of $289/year to be listed in the GigX Directory. Having unlimited access and direct connection to fractional executives empowers companies to enhance their team without having to commit to a permanent salary, contract or benefits.
While the benefits for the hiring companies are clear, CxOs benefit too. Fractional positions give CxOs flexibility and control not often seen in the corporate world. When an organization and a fractional CxO connect on GigX, they set the terms — how often the CxO will work and what the compensation will be. GigX doesn't stand in the middle, nor do they take a percentage of the deal. By working multiple fractional CxO roles simultaneously, a fractional executive can ensure financial stability should one role come to an end.
"After working for marketing agencies for 25 years, I wanted the flexibility to control my own schedule, while working with growing businesses that have interesting, complex demand-generation problems," says Mairi B., a Fractional Chief Demand Officer (FCDO) with GigX. "Through GigX, I've enjoyed the diversity of companies and markets I'm working with that all share a need to increase demand and sales conversions. My GigX clients are open to change, and it's been rewarding to have an immediate impact on their business. Within one week of joining GigX, I had two clients lined up and am now at 100% capacity."
As the economic forecast for 2019 predicts more uncertainty and risks, companies looking to expand into emerging markets can use GigX to develop CxO teams in other countries. GigX provides many benefits and cost savings as organizations can quickly and confidently enhance their teams with experienced fractional executives.