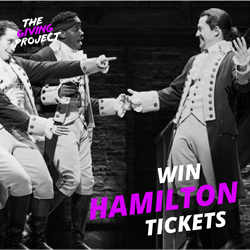 We want to make giving a habit.
BUFFALO, N.Y. (PRWEB) October 12, 2018
On Friday, October 5, hundreds of Buffalonians lined up outside Shea's Performing Arts Center for a chance to get tickets to Hamilton. Due to the incredibly high demand, the tickets were sold through a lottery system. For consumers who wanted to buy tickets online, they were going for as much as $500 each at the time of this writing.
The Giving Project is giving away a pair of tickets to the show, and all you have to do is make a donation to enter for a chance to win. And when you do, you're getting more than a chance to see the show. Proceeds will benefit Stone's Buddies – a program within Oishei Children's Hospital of Buffalo that provides a support network for the families of children with terminal illness.
Joe Castle, Founder and President of the Giving Project said the following when asked about the mission of the Giving Project: "In essence, we want to make giving a habit. We want to encourage everyone in the community to make it better, help a variety of charities, and in return, we help local businesses and give donors chances to win prizes and experiences."
For more information, or to learn more about this campaign, visit: https://givingproject.com/project/hamilton/