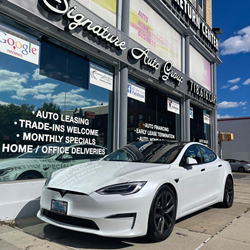 "We expect car inventory to improve in 2022 and 2023 as semiconductor manufacturing arrives in North America" - Signature Auto Group
BROOKLYN, N.Y. (PRWEB) November 25, 2021
Signature Auto Group, a premier online car leasing company, with offices in both Brooklyn, NY and Fort Lauderdale, Florida, is excited to see semiconductor manufacturers opening new factories and supply chains in the United States and the rest of North America. All this in an effort to combat the current global chip shortage which has taken a toll on car inventory across the globe. With automotive and technology prices skyrocketing across the board, new factories in the United States will help to alleviate supply shortages.
The automotive industry has experienced a multitude of issues stemming from semiconductor shortages, such as manufacturing delays and part shortages. As demand for new vehicles continues to rise, prices across the board have increased, for both leasing and financing of new cars. Due to this, the used car market has seen an increase in prices as well. In an effort to alleviate these inflated prices, companies like General Motors and Ford are partnering with chip manufacturers like Qualcomm and GlobalFoundries on new designs of chips that are more modern than the current chips and would be made in North America.
Signature Auto Group New York is excited about these automotive industry developments. With new chip production set to begin in North America, car inventory is expected to increase, thus decreasing vehicle pricing, for leasing and financing. Signature Auto Group's team of leasing agents in both Brooklyn, NY and Fort Lauderdale, Florida will be able to offer a wider variety of makes and models for lease and purchase.
In the meantime however, while the global chip shortage is still a concern, Signature Auto Group has introduced it's car lease exit program because many lessees car's may be worth more than anticipated at the start of their lease when the residual value was pre-determined.
The Car Lease Exit Program is simple and easy to enter. The steps are as follows:

Enter contact information
Enter car's make, model, mileage, and lease terms
Signature Auto Group's leasing team will reach out with custom vehicle lease exit options
If the vehicle qualifies, there is no additional fee to exit your lease
Using the information provided, the leasing team at Signature Auto Group locates a vehicle lease's buyout price, and thus determines if the lease is eligible for termination and if money can be made in the process for the lease owner. Customers can either walk away with this money or trade their car towards a new vehicle lease through Signature's fully online car leasing website. Due to factors surrounding the global car market, there may be certain situations in which car lessees' may need to pay to exit their lease.
Signature Auto Group New York recognizes the importance of transparency when leasing a car in 2021. The Signature team prides itself on providing customers with all the financial information that comes along with leasing a new car in New York, Florida, or the Tri-State Area. Leasing a car has a lot of benefits, and Signature Auto Group's online leasing service allows customers to take full advantage of the freedoms of car leasing!
To shop lease deals on all makes and models, please visit https://signatureautoworld.com/car-lease-deals/page/2/
About Signature Auto Group New York
Signature Auto Group is an online car leasing company, based in New York and Florida. The company's talented, loyal, and motivated staff go above and beyond to support clients before, during, and after leasing a vehicle – a claim most other companies simply cannot make. Signature Auto Group boasts extensive inventory including many makes and models of vehicles, with numerous specials being offered throughout the year.