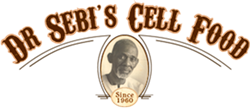 LOS ANGELES (PRWEB) July 02, 2020
"With the weather warming up, it's time to stock up on some new must-haves for summer," reported Q13 FOX 7 Seattle in a segment broadcasted earlier in June entitled "Summer Essentials," hosted by popular lifestyle expert Sadie Murray, aka "The Go-To Girlfriend."
In her short list of "Summer Essentials", Ms. Murray included several Dr. Sebi's Cell Food products, focusing specifically on Green Food Plus, a multi-mineral formula that promotes good health and nourishment; and Nerve & Stress Relief Tea, the package of which the host described as "full of chamomile–you get a lot—it's a great bang for your buck, and it tastes amazing."
Ms. Murray was also featured prominently in a broadcast on Good Day Sacramento, in which "The Go-To Girlfriend" once again put the spotlight on Dr. Sebi's Cell Food products, this time describing the brand's Immune Support Tea, packed with antioxidant rich elderberry, as "perfect for boosting immunity, great as a natural remedy for cold and flu."
Dr. Sebi's Cell Food was established by Dr. Sebi, born Alfredo Bowman, whose interest and longtime study of the healing properties of plants led him to develop the African Bio-Mineral Balance Diet, including guidelines and nutritional supplements for an alkaline, vegan diet.
Celebrating the 60th year of Dr. Sebi's development of the African Bio-Mineral Balance Diet, Dr. Sebi's Cell Food products has earned the trust of many notable fans (most recently, Cedric The Entertainer and JB Smoove), and continues its mission to enrich the health and wellbeing of people around the world.
About Dr. Sebi's Cell Food
Dr. Sebi's Cell Food is a distinguished producer of plant-based supplements for those seeking positive pathways to improving their lives. They offer natural botanical compounds based on the formulations of their founder, Dr. Sebi. He began creating natural plant-based compounds meant to cleanse and revitalize the cells. This led to the establishment of Dr. Sebi's Cell Food, which has, for the last thirty years, continued Dr. Sebi's commitment to providing natural ways to help people live a better life. Subscribe to the Dr. Sebi newsletter at drsebiscellfood.com, or follow them on Instagram at @drsebiscellfood.