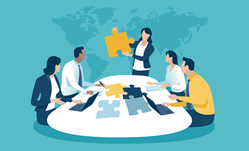 You can't make real change without challenging the status quo, and companies need to make valiant efforts to recognize and emphasize the advantage of a diversified team, including female leaders.
TAMPA BAY, Fla. (PRWEB) February 20, 2023
An annual report from LeanIn.org and McKinsey & Company revealed that in 2022, women leaders had departed their corporate roles at a record rate compared to men. These departures have been attributed to workplace issues such as work-life balance problems, microaggressions, and diminished recognition of gender equality efforts. To tackle the ongoing trend of female leadership leaving the workspace, Monica Eaton — founder of Chargebacks911 — has suggested that C-suite administrators should reevaluate and modify their corporate cultures and procedures to give better support to women employees or risk losing future generations of female leadership.
Fewer than a quarter of C-suite executives are women, and less than five percent are women of color. Research from the McKinsey survey in 2022 found that for every 100 entry-level employees who are promoted to managers, just 87 female workers and 82 women of color receive similar advancement. The World Economic Forum's Global Gender Gap Report 2022 says it will take 132 more years to achieve global gender parity.(1)
Eaton, who oversees nearly 400 employees around the world, is troubled by these findings. She states, "I think one reason why there is such an imbalance in many industries, including fintech and payments, could be due to the 'coding versus cozy' divide. You can't make real change without challenging the status quo, and companies need to make valiant efforts to recognize and emphasize the advantage of a diversified team, including female leaders."
Employees of both genders firmly strive for meaningful changes in the workplace. While men often take a more data-driven approach, women are typically credited with modernizing corporate environments through strengthening employee engagement, well-being, and inclusion. Unfortunately, when companies neglect to act upon both sides of the spectrum, women are motivated to leave their jobs and invest their efforts in areas that satisfy their equal craving to drive meaningful change.
Eaton suggests that such repercussions are not short-lived and, if not addressed, are at risk of impacting future recruitment and retention of women leaders who could otherwise make powerful additions due to their cultural acumen and money-making abilities.(1)
"It's concerning that as we see these indispensable female figures depart leadership positions — taking with them the fruits of their labor — these corporations will have difficulty securing similar successes in the future," Eaton warns.
According to Eaton, the first step that corporations and executive leadership can take is to be proactive in addressing microaggressions in the workplace. This includes implementing zero-tolerance policies for any form of discrimination or harassment based on race, gender, sexual orientation, religion, ethnicity, or any other factor. Companies should also provide resources for employees to report such behavior and institute training for managers and other executives to identify and respond to microaggressions appropriately. Furthermore, it is important for executives to regularly review the organizational culture and make changes in areas that are not conducive to inclusivity and diversity. And lastly, recognizing the widening scope of net gains — as the world evolves, so must our culture, approach, and metrics.
Burnout is another ailment commonly cited for departure reasons. In order to combat this increasing concern, corporations and executive leadership must ensure that employees have enough support in their familial and professional roles and, equally, that they clearly understand the role they play and the value they bring as a result. Whether it's being given opportunities to take meaningful breaks or being recognized for performance related to key objectives, this support requires a more thoughtful approach regarding resource needs, work schedules, mentoring programs, and regular feedback on job performance.
From Eaton's point of view, it is critical for women in leadership roles to be able to stay focused and nurture a sense of empathy that can have a transformative impact on businesses globally.
A recent study published by TechRepublic cites that companies led by female CEOs are found to be more profitable by 20 percent on average. In previous decades, competition was less fierce, and employee engagement was less relevant — today, having the best product or idea without a diverse and inclusive culture contributes to unspoken barriers to success.
As an advocate for heightened diversity within fintech, Eaton created the LIFT Mentorship Program to connect women professionals with female executives to create greater opportunities for females to succeed in STEM industries. Eaton's mission is for this program to encourage women to "be the beacon you want the world to see."
About Monica  Eaton
As an acclaimed entrepreneur, speaker, and author, Monica Eaton is widely recognized as a thought leader in the FinTech industry and a champion of women in technology. She established her entrepreneurial credentials upon selling her first business at the age of 19. When a subsequent eCommerce venture was plagued by revenue-leeching chargebacks and fraud, Eaton rose to the challenge by developing a robust solution that combined human insight and agile technology. Today, her innovations are used by thousands of companies worldwide, cementing her reputation as one of the payment industry's foremost experts in risk management, chargeback mitigation, and fraud prevention. Monica Eaton is honored to be the recipient of various industry awards. Her own expertise, as well as the services provided by her companies, has been recognized as outstanding by her peers and other industry leaders. Visit  http://www.monicaec.com.
References: 
1. Ellerbeck, Stefan. "What is the 'Great Breakup' and Why are so Many Women Leaders Quitting?", WeForum, 28 November 2022, weforum.org/agenda/2022/11/women-leaders-quitting-jobs-work-gender/.
2. Shalal, Andrea. "What Happens When Women Run the Economy? We're About to Find Out", Reuters, 06 April 2021, reuters.com/article/us-global-economy-women/what-happens-when-women-run-the-economy-were-about-to-find-out-idUSKBN2BT14S.
3. Stabler, Meghan. "Why Composable Commerce is the Future of Modern Enterprise Retail", CIO Review, 2022, cioreview.com/news/why-composable-commerce-is-the-future-of-modern-enterprise-retail-nid-36394-cid-155.html.