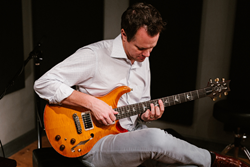 There is such a joy in being able to play guitar and we're happy to help spread the cheer!
CHANTILLY, Va. (PRWEB) November 20, 2018
The Great Courses has announced the release of Playing Guitar like A Pro: Lead, Solo, and Group Performance—18 unique 45-minute lessons which feature lessons, live performances, and storytelling focused on the biggest six-string icons of the last century.
Through this course, Dr. Colin McAllister, Music Program Director at the University of Colorado at Colorado Springs, presents a treasure trove of knowledge for both the guitarist and the music enthusiast. From the origins of bluegrass to the rich sounds of Joni Mitchell, you'll explore nearly a century of music from artists spanning the globe, as you unearth the secrets of some of the world's most influential rockers, including Eric Clapton and David Gilmour. Then, discover the tricks of the trade from jazz pioneers like Django Reinhardt and Antonio Carlos Jobim.
Professor McAllister and a live band—made up partially of his own jazz sextet from Colorado—play the backing tracks from each of the songs presented through the course so you can rock right along with them.
During these music sessions, you may notice the special guitar Professor McAllister uses. It's a PRS Hollowbody II Piezo on loan from Paul Reed Smith Guitars for the taping of this course—a partnership that Professor McAllister truly enjoyed.
"I've had a great time working with the team at PRS Guitars. They really helped me find the best guitar for what I wanted to do with this new course…to be able to play a wide variety of repertoire, from jazz to fusion to funk to rock." Their support for teaching guitar extended beyond this course as well. "PRS is helping my guitar program at the University of Colorado, Colorado Springs by providing our students with amps and guitars to try out," Professor McAllister notes.
"We're looking forward to being a part of The Great Courses continued efforts to offer quality edutainment where students can find an easy, attainable way of advancing and achieving skills needed to be a better guitar player," explains Jeanne Nooney, the PR and Events representative from PRS Guitars. "There is such a joy in being able to play guitar and we're happy to help spread the cheer!"
Whether you are a musician looking to play like the greats or a music fan wanting to enrich your experience of favorite performers and songs, you will treasure the experience of Playing Guitar like a Pro, and you'll hear your favorite bands in a whole new light.
About Professor McAllister: Dr. Colin McAllister serves as the Music Program Director at the University of Colorado Colorado Springs. He attended the University of California, San Diego, where he obtained his Master of Arts (M.A.) degree and Doctor of Musical Arts degree (D.M.A.) while studying with celebrated classical guitarists Celin and Pepe Romero. During his 25-year career as a professional musician and educator, Dr. McAllister has performed across North America and Europe with leading orchestras, chamber music ensembles, jazz groups, and as a soloist.
About The Great Courses: The Great Courses is the nation's leading developer and marketer of premium-quality media for lifelong learning and personal enrichment. Delivered in engaging, expertly-produced video and audio—in convenient online, digital, video-on-demand, and disc formats—these carefully crafted courses provide access to a world of knowledge from the most accomplished professors and experts. The content-rich, proprietary library spans more than 600 series with more than 14,000 lectures designed to expand horizons, deepen understanding, and foster epiphanies in the arts, science, literature, self-improvement, history, music, philosophy, theology, economics, mathematics, business, professional advancement, and personal development. Creating unique learning experiences since 1990, The Great Courses is the premier brand of The Teaching Company Sales, LLC of Chantilly, Virginia, which is owned by Los Angeles-based Brentwood Associates. More information can be found at http://www.thegreatcourses.com.
About PRS Guitars: Paul Reed Smith Guitars is a leading manufacturer of high quality instruments in Stevensville, Maryland and has provided some of the world's most renowned musicians with instruments since 1985. The PRS team of highly skilled craftspeople design and build a wide variety of musical instruments and gear for worldwide distribution, including electric, acoustic, and bass guitars as well as boutique-style guitar amplifiers. The PRS SE line of products complements the Maryland-made PRS line by offering highly approachable and more affordable electric, acoustic, and bass guitars. Carlos Santana, Neal Schon, John McLaughlin, John Mayer, Jimmy Herring, Linkin Park, Orianthi, Blake Shelton, Mark Tremonti, Zach Myers of Shinedown, Brian Kelley of Florida Georgia Line, David Grissom, Martin Simpson, Tony McManus, and Derek Trucks are among the artists currently playing PRS instruments and/or amplifiers.