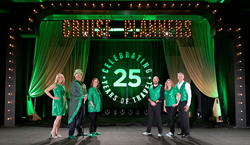 "Our difference is we don't wait for opportunity, we create it," said Michelle Fee, CEO and Founder of Cruise Planners. "It is never enough for Cruise Planners."
CORAL SPRINGS, Fla. (PRWEB) November 30, 2018
This year, Cruise Planners, an American Express Travel Representative, kick-started its 25th anniversary celebration at its annual conference, which was themed The Greatest Show, a play off of the popular movie The Greatest Showman, but with the brand's signature Cruisitude® carried throughout.
In front of 600 travel advisors and hundreds of travel partners, Cruise Planners founder and CEO, Michelle Fee highlighted how the company got started well before being a home-based travel agent was en vogue and even celebrated one of the agents who was the first-ever Cruise Planners travel agent nearly 25 years ago. It's clear that Cruise Planners has a leg over the competition on a variety of points, and the driving visionary behind it all is Fee.
"Our difference is we don't wait for opportunity, we create it," Fee said, donning a "CP Green" dress. "It is never enough for Cruise Planners. Our 25th anniversary lets us reflect on where we came from, but more importantly, celebrate the passionate, dedicated group of travel advisors that make up the Cruise Planners family who are truly the heart of what makes Cruise Planners the greatest show in travel."
The "Never Enough" Mantra was echoed throughout the Convention as the company stressed its dedication to continued innovation of the tools needed to drive travel advisor success which are working, as evident by the following sales growth numbers for 2018 over 2017:

Total sales growth for 2018 over 2017: 20%
River cruise sales growth: 55%
Luxury travel sales growth: 19%
Land travel sales growth: 21%
Cruise Planners is already seeing a strong growth of 28% in total sales for 2019 departures versus same time last year. Travel partners praised Cruise Planners throughout the convention, citing this sales growth coupled with the commitment of Cruise Planners travel advisors and executive team for their eagerness to continue growing their partnerships.
The company even proudly played a new custom anthem with lyrics such as; "We are proud to be different. We are proud to be green. We are CP."
For 25 years, Cruise Planners has been leading the pack in marketing, technology and training in the travel industry. Launches and advancements announced at the convention by Fee, Vicky Garcia, COO and co-owner and Brian Shultz, CIO include:
More Automation for its Network of Travel Advisors:
1. Triggered Emails: Consistent refresh of Triggered Emails, a proactive series of automatic emails, which allow agents to stay in contact with their clients after booking and is completely automated for them with additional Post-Voyage offers sent through automated Triggered Emails reminding clients of exclusive past-guest, limited-time offers they can take advantage of.
2. Hot Lists: A list of hot sales opportunities which identifies clients who have milestone birthdays, anniversaries, clients who haven't make a booking in the last 12 months and clients who have an open onboard future cruise deposit, will now be automated.

CP Marketing Hub: A better way to track and set goals through an enhanced CP Marketing Hub – all things marketing. With data being a bigger trend and Cruise Planners leading the way in leveraging consumer data to track and market to their clients, it's now even easier for advisors to measure their goals and increase sales.
New Websites for Travel Advisors: New travel agent sites with options for customization for land or luxury specialty – two areas that the brand continues to grow in.
Focus on Additional Video Content: CP Video Network already offers 20 different modern, fresh videos focusing on popular destinations, travel styles such as family, solo travelers, adults-only travel, luxury, land and much more. Cruise Planners announced adding new customization as video marketing continues to be an impactful way for travel advisors to drive sales.
Data-Driven Travel Insight to Drive Marketing: Through the brand's "Travel Styles" advisors are able to find out more about what their customers' desires are for upcoming travel and better market to them. By focusing on top-performing niches including foodies, millennials, adventure travelers and solo travelers, the brand will help agents close more sales.
"Our agents are the envy of the travel industry and we give them the tools they need to be the Greatest Show," Garcia said. "After 25 years in business supporting travel advisors, we are always delivering the best tools designed for travel advisors to increase their sales and positively change the travel world."
The group is among the first travel advisors to sail on the "edgiest" ship at sea, the Celebrity Edge, as travel advisors take part on the ship's inaugural sailing out of Port Everglades.
About Cruise Planners, an American Express Travel Representative:
Cruise Planners, an American Express Travel Representative, is the nation's largest home-based travel agent franchise network in the travel industry. Cruise Planners operates a network of more than 2,000 franchise owners who independently book vacation and travel experiences for their clients. Headquartered in Coral Springs, Fla. since 1994, Cruise Planners supports its network of franchise owners with innovative marketing, booking and technology tools, professional development and training with the industry's top executives. Cruise Planners and has been named the No.1 travel franchise by Entrepreneur magazine for 15 consecutive years and was recently featured in Entrepreneur as one of the top 30 franchise innovators in technology. Consistently named as one of the Top Women-Owned Businesses by the South Florida Business Journal, Cruise Planners is on the Inc. 5000 list as one of the fastest-growing private companies in America, has been ranked as the #1 travel franchise by Franchise Business Review for 6 years and is recognized as one of the Top Workplaces by the Sun Sentinel.
Cruise Planners has achieved top producer status with every major cruise line including Royal Caribbean International, Norwegian Cruise Line, Princess Cruises, Carnival Cruise Line, Celebrity Cruises, Holland America Line, MSC Cruises, Viking Cruises, Uniworld Boutique River Cruise Collection and Regent Seven Seas Cruises, as well as many land vendors such as Travel Impressions and Sandals and Beaches Resorts. As an American Express Travel Representative, Cruise Planners maintains a reputation for quality and offers exclusive American Express Travel benefits such as Pay with Points. Cruise Planners has earned the American Express Travel Representative Excellence Award since 2004, as well as numerous marketing, technology, franchise and philanthropy awards including an International Franchise Association FranTech award for innovation, Magellan Awards from Travel Weekly and Travvy Awards from travAlliance media. Cruise Planners celebrates diversity and supports are troops as one of the Top 50 franchises for Veterans according to GI magazine, the Top Franchise Brand for Veterans according to Franchise Business Review, one of the Top 25 franchises for African-Americans by Black Enterprise magazine and a member of the International Gay & Lesbian Travel Association. Visit our website, http://www.cruiseplanners.com, for more information or to view the complete list of awards and honors.
Stay in Touch: Media can stay up-to-date with Cruise Planners by visiting our media room or Socially Yours page for social media updates and handles. For additional information or to make reservations, vacationers should locate a travel advisor near them. For those interested in becoming a franchise owner, please visit the Cruise Planners franchise website.