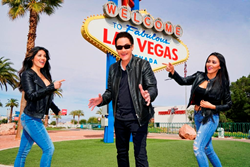 Pandemonuim and Mayhem on the Streets with High Energy No Holds Barred Comedy.
LOS ANGELES (PRWEB) October 05, 2020
Jimmie Lee – The Jersey Outlaw is hitting the streets with his wild and crazy comedy TV show , "Dangerously Funny". The show owns up to its name with high energy, no holds barred, politically incorrect, 80's style comedy. Jimmie Lee creates Pandemonium and Mayhem from East Coast to West Coast all over America and most recently in London. Jimmie has created a unique brand of street comedy that combines one liners, insults and zingers and is uncanny and most definitely unpredictable.
The Jersey Outlaw is a "True Outlaw ", who lays down his own law, and does things his way or no way at all. In fact, through the Covid 19 Pandemic, Jimmie has filmed this year 2020 in London, South Beach, Atlantic City, and is
currently shooting in Las Vegas. He's a real wise guy with some Jersey attitude and alot of charisma, which has landed him a big spot in the comedy world.
So away we go with the show……
The limo door opens…and Jimmie hits the streets with his signature look, the leather jacket and dark sunglasses with security and the BanditoGirls by his side, jostling and kibitzing with the crowds, as he performs ad lib street style comedy, creating a scene wherever he goes. Jimmies off the cuff delivery, coupled with his dynamic persona are trademarks that have made The Jersey Outlaw a big name in comedy. Nobody's safe when Jimmie hits the streets. So, lock the doors and call the cops, The Outlaw has arrived.
Jimmie has always said that what makes his show work so well is that it's very unique and different. "It makes me feel really good to see people having fun and entertained by my antics and the funnies, and they are very engaged in what I'm doing. Also, no one does this style of comedy anymore, because no one really wants to interact with their fans. This is what sets us apart.", says the old school comedian who has turned the world upside down. Dangerously Funny has taken The Jersey Outlaw from New York to Las Vegas/ Hollywood , from Atlantic City to South Beach and more, with most recent jaunts to London . Comedy is universal and Jimmie sees how engaged people are worldwide.
Everybody's talking about the Jersey Outlaw. He's the talk of the town. The Hollywood Press can't get enough him. In fact, the critics just gave his show " one finger up ". He just signed a five year deal with Harrah's in Vegas and now, "he's waiting for them to sign". Jimmie signs 100 autographs a day, "nobody takes them, but he signs them anyway". As The Outlaw says, "It's all in the schtick, baby".
The show currently airs on Comedy TV and on Amazon Prime.
In this crazy world of entertainment, New Jersey can take pride to one outlaw of a good nature, that's Jimmie Lee and he's one of a kind ! You won't wanna miss the action, when he brings his show to a city near you.
FOR MORE ON JIMMIE LEE
YouTube Channel : Jimmie Lee-The Jersey Outlaw
Facebook : Jimmie Lee ( Public Figure )
Instagram : realjerseyoutlaw
TikTok : @thejerseyoutlaw