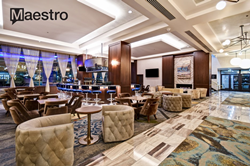 "You can't meet the demands of today's travelers without stellar customer service — and I'm not just talking about the hospitality we extend to guests. To exceed the expectations of those we are fortunate to serve today, we must have reliable 24/7 support from our technology providers."
MARKHAM, Ontario (PRWEB) July 23, 2020
The Grove Hotel in Boise, Idaho, is fairing better than most properties in the Pacific Northwest. Occupancy is in the mid 40 percent range during the week and teeters between 70 percent and 75 percent on weekends. General Manager Steve Steading said the secret to the hotel's success is the exemplary service his team is providing to travelers, and the service culture extended to his staff from technology provider Maestro PMS. With the right tools in place — free version upgrades; on demand live one-on-one refresher training; in application live chat, online user guides, tutorials and direct email support; complimentary live learning webinars; an e-Learning user website; and professional productivity audits all backed by a 24/7 call center — Steading said the hotel is maximizing operational efficiency and achieving staff productivity.
"You can't meet the demands of today's travelers without stellar customer service — and I'm not just talking about the hospitality we extend to guests," Steading said. "To exceed the expectations of those we are fortunate to serve today, we must have reliable 24/7 support from our technology providers. Without it, we can't train and retrain our staff in new procedures … ensure the cleanliness of our rooms … provide contactless check in/out … share guest requests in real time with staff … or deliver frictionless and memorable experiences. Thanks to the Diamond Plus Service provided by Maestro PMS, we are doing all these things and many more.
"Maestro's service culture is unlike anything I have ever experienced; it's by far the best in this business," he said. "Most of our front desk staff are of the 18 to 24 age range, and they have a quick understanding of how to work in a web environment. Onboarding and training for them is exceptionally easy. That's so important because we can't afford our people to get frustrated and leave. They can check guests in or out as needed, and then resume watching training videos or listing to webcasts in Maestro's eLearning Center. It really allows us to be more flexible with time management while maintaining the highest levels of guest service. If on the rare chance that we need to call Maestro for help, we know that 99 percent of the time, someone will answer the call within the first few rings. This is the level of service guests expect from us, and it's what we demand from our partners."
Steading said Maestro's lifetime upgrades also set the PMS provider apart from others in the industry.
"Lifetime upgrades are not something that is typically offered by other companies today — and I am familiar with most; usually hotels have to pay the upgrade cost upfront or it is absorbed by the subscription fee," he said. "This is a big plus for us, especially in today's economy with lower-than-normal occupancies. Because Maestro doesn't nickel and dime us for every little add on, we are able to leverage some of the newer contactless technologies that today's travelers are demanding and invest in more modules to further improve on our operational efficiencies. The bottom line is that Maestro saves us money, time, and headaches. We couldn't be more pleased."
Solving Problems
Warren Dehan, Maestro President, said they entered the custom software development business 42 years ago not to create IT problems for business owners, but to solve them. Software can get complicated, especially in today's hotel environment where integrations to 20-plus systems is not uncommon.
"Independent hoteliers are calling us daily saying they are dissatisfied with the service they are receiving from their legacy PMS providers," Dehan said. "Calls are not being answered or are provided in limited hours and from offshore centers, messages are not being returned, and requests for software upgrades to support today's touchless technologies are not being accommodated. They want a service culture change.
"Maestro has taken the steps necessary to improve how we deliver remote services in a functional, appropriate, useful, and reliable way," Dehan said. "We're problem solvers, even when the problems don't involve us — we've actually taken calls from customers who need help with another vendor's equipment because its support team is nonresponsive. This substantiates that no matter how good a company's software may be, it needs to be backed by exceptional service."
Almost daily Maestro's sales team fields calls from prospects complaining that their current PMS provider does not have a contactless technology offering or because they are being required to move from an on-premise solution to one that is cloud based, Dehan said. Maestro takes the challenge out of deciding between limited options by offering flexible and scalable deployment options with an identical full-featured web browser or windows solution available cloud hosted, on premise, or can be deployed in a client's private cloud. Plus, its revenue-generating hotel management software tools and services increase profitability, drive direct bookings, centralize operations and provide personalized and mobile guest service tools to enhance and digitize the guest journey.
The company's touchless technologies are designed to reduce or eliminate the need for physical contact between guests and staff. The integrated suite of modules and third-party vendor integration solutions include web/mobile/kiosk check-in with mobile key integration, online prepayment portal, express mobile check-out, electronic signature capture, and configurable 48-hour room availability that creates gaps in room reservation spacing to allow time for complete room sanitization. Mobile Spa Provider Schedule, Mobile Intake and Waiver Forms for Guests, and eSignature Document Management are just a few of the many additional tools available now with more being developed in response to client demand.
Maestro's remote onboarding capabilities are also attracting new prospects. The full PMS can be installed (with a custom configured database) remotely. Whether the necessary hardware is already in place, or a new cloud hosted environment is desired, hoteliers do not need to worry about waiting for quarantines to be lifted for the Maestro system to be delivered and launched. Training on the solution can also be accessed online or via virtual webinars. Those wishing to host onsite training can do so in small groups as to not infringe on social distancing guidelines.
"We are a medium size, family run, long term business that understands the importance of maintaining relationships for the long term," Dehan said. "As technologists, we found a way to make hoteliers' IT lives easier. We built stable products that don't require constant fixing; developed a service culture centered around accessibility that enables people to access live agents, live chat support, and online training at their own pace; and we offer lifetime version upgrades and enhancements as part of our subscription fees because we believe hoteliers should never be forced to purchase a PMS system again when technology changes occur. Yes, we've got great products, but our service greater service. That's what hospitality is all about."
About The Grove Hotel
The Grove Hotel is downtown Boise's premier AAA Four Diamond hotel. Located in Idaho's revered capital city, The Grove offers 250 contemporary rooms and suites and entertaining spaces including adjoining access to CenturyLink Arena™, an 22,000 square foot indoor event and sporting venue, and home to ECHL Idaho Steelheads hockey. The Grove Hotel not only offers breathtaking views of the downtown Boise skyline and surrounding Rocky Mountain foothills, but also offers over 14,000 square feet of flexible meeting & event space, an outdoor 4th floor terrace, Trillium Restaurant and Grove Fitness Club & Spa. For a truly personalized travel experience, consider The Grove Hotel as your exceptional home away from home.
About Maestro
Maestro is the preferred cloud and on-premises PMS solution for independent hotels, luxury resorts, conference centers, vacation rentals, and multi-property groups. Maestro's PCI certified and EMV ready enterprise system offers 20+ integrated modules on a single database including web and mobile apps to increase profitability, drive direct bookings, centralize operations, and enable operators to engage guests with a personalized experience. For over 40 years Maestro's Diamond Plus Service has provided unparalleled 24/7 North American based support and education services to keep hospitality groups operational and productive. Click here for more information on Maestro. Click here to get your free PMS Buying guide.