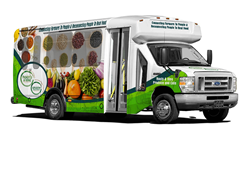 "There are more fruits and vegetables in rich people's shampoos than on poor people's plates, and we have to change that now." - Ena Jones, Founder of Green Table Talks
CHICAGO (PRWEB) August 27, 2020
Henry Williams Love Foundation (HWLF) and Green Table Talks NFP have partnered to launch The Growcery Bus Project. The Growcery Store Bus Project is designed to increase exposure to and access the benefits of farm-to-table foods while providing education to communities that are typically excluded from consideration. Merging experience and efforts between these two organizations will result in communities having greater access to and education about fresh produce, herbs, spices, and oils to enrich diets and strengthen immune systems, all provided on a fun mobile bus that will visit communities across Chicago and the Southland, especially those with food deserts or impacted by the recent racial unrest.
The namesake of HWLF, Henry Williams, was an advocate for fresh organic produce and grew fruit, vegetables, and herbs on his land in St. Anne, IL, and shared his crops with his neighbors. "The way food is made available to neighborhoods based on socio-economic status, and racial demographics is just shameful," says HWLF President Kyla Williams, "but through this partnership with Green Table Talks we aim to nourish and educate people in need of food security, using innovation and with dignity." Green Table Talks and its subsidiary project The Roots and Vine Produce Cafe strives to "Connect Farmers To People & Reconnect People With Real Food," says founder Ena Jones. "There are more fruits and vegetables in rich people's shampoos than on poor people's plates, and we have to change that now." Kyla agrees and adds, "We are so thankful to the Chicago Region Food System Fund for this investment and are excited about our collaborative contribution to food security for people who need it the most."
The first Growcery Bus is currently being built out and will start rolling on October 1, 2020. Bus route information will be available on both the Green Table Talks and Henry Williams Love websites. A bus tracker app is also in development.
Due to demand and geography, two additional buses will be added to The Growcery Bus Project. Donations and funding partners are needed and actively being solicited. Likewise, the Project is also seeking community partners that can facilitate space for the buses to park, residents to shop, and pop-up food and health education sessions to occur.
For more information about The Growcery Bus Project or Henry Williams Love Foundation, please visit their website at http://www.henrywilliamslove.org. For more information about Green Table Talks and their sister organization, Roots and Vine Produce and Café, visit https://rootsandvineinc.com/green-table-talks.