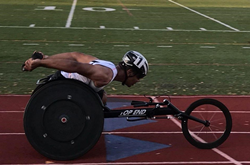 ROCKVILLE, Md. (PRWEB) September 12, 2019
The United States Olympic & Paralympic Committee has named The Hartford's Ability Equipped program as its 2019 Rings of Gold award recipient for making adaptive sport equipment and opportunities more accessible to athletes of various ages and skill levels nationwide. The award will be presented at the awards gala on Friday, September 13 as part of the U.S. Olympic & Paralympic Assembly in Colorado Springs.
In partnership with Disabled Sports USA, The Hartford's Ability Equipped program is empowering athletes with disabilities to experience the life-changing power of sport by making adaptive equipment more readily available throughout the United States. With The Hartford's three-year, $2.2 million contribution, Ability Equipped aims to increase the capacity of community grassroots organizations and bridge the gap to elite sport opportunities by identifying, supporting and empowering the 250+ athletes, ages 13-24, who comprise the Disabled Sports USA Elite Team.
Through The Hartford's Ability Equipped program, over $300,000 in equipment grants will be awarded to more than 120 Disabled Sports USA (DSUSA) Elite Team athletes competing across all the Paralympic sports. Ten of these athletes recently represented Team USA in five different sports at the Parapan American Games Lima 2019, including 22 year-old Casey Followay from Wooster, Ohio. Followay was named to the DSUSA Elite Team in 2016 and received an Ability Equipped grant to purchase adaptive sports equipment, namely a new racing chair. "This type of equipment is expensive. I am very honored to be involved with DSUSA and grateful for the generosity. This will help me achieve the goals I set when I was young." One of his goals is to represent Team USA at the 2020 Paralympic Games in Tokyo.
Adaptive sports equipment is an important investment that will help grow the Paralympic Movement and sustain future Paralympians' opportunities to develop and compete. With adaptive sports equipment often costing more than five times as much as mainstream sport equipment, the Ability Equipped program aims to empower adaptive athletes to reach their full potential.
The program is already showing success across key indicators. Within a year of the first round of grants, which were distributed in December 2018, six DSUSA chapters saw a 76 percent increase in program days, an 82 percent increase in equipment inventory, a 111 percent increase in volunteers, a 148 percent increase in instructors and trainers, and a 62 percent increase in program participants, with more than 1,110 new participants – including 25 percent youth. Additionally, the Ability Equipped program awarded $305,000 to seven DSUSA chapters in August 2019, and will award another $340,000 in 2020 – all building toward the ultimate goal to introduce more than 60,000 youth with disabilities to adaptive sport by the Los Angles Olympic and Paralympic Games in 2028. By investing in these local organizations that provide sport opportunities to youth, especially in underserved geographic locations, the program is fostering healthier, happier and more inclusive communities and teaching youth valuable life skills through sports. Embodying the philosophy of Olympism, Ability Equipped emphasizes the joy found in effort, as participants are chosen based not on their previous accomplishments, but on their proven commitment and desire to achieve Paralympic greatness.
"We are so proud that our impactful partnership with The Hartford's Ability Equipped is being recognized as the 2019 Rings of Gold award recipient. This program is changing lives by delivering accessibility to adaptive sport equipment and opportunities nationwide. It is a privilege to be a part of this effort," said Glenn Merry, executive director of Disabled Sports USA.
The Rings of Gold award will be presented at the closing dinner of the U.S. Olympic & Paralympic Assembly, which will feature legendary Jill Ellis, head coach of the world champion U.S. women's national soccer team as the keynote speaker. Other awards, including the Olympic Torch Award, Jack Kelly Fair Play Award and Diversity & Inclusion Award, will also be presented.
For more information on the Ability Equipped grant program, visit https://www.disabledsportsusa.org/sports/empoweryouthsports/.
About The Hartford
The Hartford is a leader in property and casualty insurance, group benefits and mutual funds. With more than 200 years of expertise, The Hartford is widely recognized for its service excellence, sustainability practices, trust and integrity. More information on the company and its financial performance is available at https://www.thehartford.com. Follow us on Twitter at http://www.twitter.com/TheHartford_PR.
The Hartford Financial Services Group, Inc., operates through its subsidiaries under the brand name, The Hartford, and is headquartered in Hartford, Conn. For additional details, please read The Hartford's legal notice.
About Disabled Sports USA
Founded in 1967, Disabled Sports USA is a national charitable organization that provides opportunities for individuals with disabilities to develop independence, confidence, and fitness through participation in sports. What began as a program to serve Vietnam veterans has since grown into one of the nation's largest multi-sport, multi-disability organizations, annually serving more than 60,000 wounded warriors, youth, and adults with disabilities. A member of the U.S. Olympic Committee, Disabled Sports USA offers programs in more than 50 summer and winter sports through its nationwide network of more than 135 community-based chapters. For more information, visit http://www.disabledsportsusa.org.