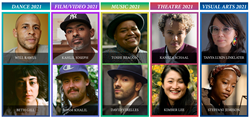 "I've always loved the artists that travel the road less traveled…those are the artists that touch me."
SANTA MONICA, Calif. (PRWEB) May 19, 2021
May 20, 2021 will mark the 27th annual celebration of the Herb Alpert Award in the Arts (HAAIA) and the doubling of awardees, this year, from five to ten risk-taking, mid-career artists – experimenters – who are challenging and transforming art, their respective disciplines, and society. Fifteen highly regarded leaders in the arts made up the panels reviewing the candidates and selecting two award recipients in each of five disciplines: dance, film/video, music, theatre and visual arts.
The 2021 Herb Alpert Award in the Arts winners:
DANCE: Beth Gill, Will Rawls
FILM/VIDEO: Kahlil Joseph, Adam Khalil
MUSIC: Toshi Reagon, David Virelles
THEATRE: Kimber Lee, Kaneza Schaal
VISUAL ARTS: Steffani Jemison, Tanya Lukin Linklater
The awards were founded and conceived by legendary musician, philanthropist and artist Herb Alpert, and his Grammy-winning vocalist wife, Lani Hall. Now in its 27th year, the HAAIA has to date been awarded to 130 artists. Each awardee receives a $75,000 unrestricted prize and residency at CalArts (California Institute of the Arts) which administers the prize on behalf of the Herb Alpert Foundation.
"I've always loved the artists that travel the road less traveled…those are the artists that touch me." Herb Alpert
Herb Alpert and Lani Hall created the Herb Alpert Foundation in 1985 and over thirty years and more than $190 million dollars later, Herb Alpert remains one of America's most important and loyal advocates for the arts and arts education.
Among the 130 past HAAIA winners are noted artists: Carrie Mae Weems, Taylor Mac, Suzan-Lori Parks, Julia Wolfe, Michelle Dorrance, Tania Bruguera, Kerry James Marshall, Lisa Kron, Sharon Lockhart, Ralph Lemon, Arthur Jafa, Cai Guo-Qiang, Okwui Okpokwasili and Christian Scott aTunde Adjuah to name a few.
Rona Sebastian, President of the Herb Alpert Foundation shares her thoughts on the vital role of artists in our society, "More than ever, in these tumultuous times, we need the strong voices of artists to remind us of what independent thinking and freedom of speech really mean, and to keep our democracy alive."
Ravi Rajan, president of CalArts, which administers the award, adds, "The Alpert Awards have been a proud part of CalArts's work since their inception. Herb and Lani's generosity enables groundbreaking artists to take risks and thus remain groundbreaking. By doubling the number of recipients, this year's outsize effort ensures that the Award amplifies even more voices of artists often unheard. Thank you Herb and Lani for all you do for artists."
Irene Borger, Director of HAAIA since its inception, reflects on this year's Award: "Singular as they are, the ten winners this year share several qualities: they are adventurous experimenters, are attentive to the relationship between maker and receiver, and set in motion a counter force to the issues and absences of our time."
The following summaries highlight why the 2021 panelists chose these ten extraordinary artists:
DANCE PANEL SUMMARY
The Dance panel has selected choreographer Beth Gill for her masterful, demanding and idiosyncratic work, for her startling, evocative images, for the theatrical, almost narrative tension she sustains and for her use of minimal resources to sensually and rigorously investigate the most private and interior of spaces.
The Dance panel has selected choreographer Will Rawls, a charismatic performer who uses his spare, elegant body to carry out a fearless engagement with dance forms while never evading the very present realities of race and gender. They recognize his bravery in taking risks with physically challenging movement, and with dangerously prolonged, riveting gestures.
DANCE PANELISTS
Nora Chipaumire - choreographer, dancer, Herb Alpert Award winner, NY
Alma Guillermoprieto - reporter/writer, Bogotá, Colombia
Gideon Lester - artistic director, Fisher Center, Bard College and senior curator, Open Society University Network's Center for the Arts and Human Rights, Annandale-on-Hudson and Brooklyn, NY
FILM/VIDEO PANEL SUMMARY
The Film/Video panel honors artist/filmmaker Kahlil Joseph for his masterful, mesmerizing films and installations that affirm Black lives and the historical struggle for liberation in America. With stream of consciousness lyricism and re-thinking of media news, his provocative, truth-telling work sees America as it should be and as it is.
The Film/Video panel honors artist and filmmaker Adam Khalil for generating a space for new forms by and for Indigenous filmmakers through his collaborative filmmaking, mentoring, and assertive position towards institutional politics. With a prankster's side-eye and biting critique, he creates dynamic, imperative works that resist a finished "colonial gesture."
FILM/VIDEO PANELISTS
Almudena Escobar López - independent curator, scholar, archivist, and researcher, Memorial Art Gallery, Rochester, NY
Alexandra Juhasz - scholar, maker, and teacher of activist media, Distinguished Professor of Film, Brooklyn College, CUNY, Brooklyn, NY
Renee Tajima-Peña - filmmaker, Herb Alpert Award winner, Professor of Asian American Studies, director, the Center for EthnoCommunications, UCLA
MUSIC PANEL SUMMARY
Moved by her sounds, words and spirit, the Music panel celebrates creator, performer, curator, community gatherer, and producer Toshi Reagon for her beautiful, incendiary, empowering and haunting work and for the example she continues to provide of how an artist might help make the world a better place.
The Music panel celebrates pianist and composer David Virelles for the richness of his astonishing musical language, revealing serious research of different folkloric traditions and deep cultural grounding, in an original and inspiring variety of formats. His thoughtful, provocative work is crucial for this moment.
MUSIC PANELISTS
Courtney Bryan - composer-pianist, Herb Alpert Award winner, The Albert and Linda Mintz Professor of Music, Newcomb College in the School of Liberal Arts, Tulane University, New Orleans
Vijay Iyer, composer-pianist, Herb Alpert Award winner, Franklin D. and Florence Rosenblatt Professor of the Arts, Harvard University, New York
Miya Masaoka, composer, sound artist, Herb Alpert Award winner, Associate Professor, Director, Sound Art Program, Columbia University, New York
THEATRE PANEL SUMMARY
Playwright Kimber Lee was chosen by the Theatre panel for her fierce, vital, and bracingly original investigations that, with incisive clarity, musical, muscular language, and astonishing leaps of imagination, explode clichés, shatter stereotypes, dare to imagine new theatrical forms, and grapple with the most urgent conversations of our time.

The Theatre panel chose director and theatre artist Kaneza Schaal for her rigorous, elegant, profoundly humanistic work, and for articulating the ineffable. Her pieces assert language, music, movement, film, and design, valorize dreaming, humor, and rituals of restoration and do nothing less than reimagine and reinvigorate the theatrical event.
THEATRE PANELISTS
Eisa Davis - playwright, singer, composer, actor, Herb Alpert Award winner, Brooklyn, NY
Dan Hurlin - theater maker, Herb Alpert Award winner, New York
Naomi Iizuka -playwright, professor, head of graduate playwriting, University of California, San Diego, Herb Alpert Award winner, San Diego, CA
VISUAL ARTS PANEL SUMMARY
Artist Steffani Jemison was named Visual Arts prizewinner for her rigorous, generous practice, breathing new life into modernist ideas, bringing forward scholarship of the Black avant-garde and experimenting with movement, gesture, language, and scores to create intimate, reflective performances. With fearless, welcoming language she generates multiple entry points to engage in the work.
Artist Tanya Lukin Linklater was named Visual Arts prizewinner for her thoughtful, visually compelling work that powerfully connects art making across time. Through varied means - archives, histories, language, artifacts, presence and absence and embodiment - she engages community, and dignifies indigenous voices with a deep generosity embedded into her practice.
VISUAL ARTS PANELISTS
Emily Jacir - artist, Herb Alpert Award winner, Co-Founder and Executive Director of Dar Jacir for Art and Research, Bethlehem
Valerie Cassel Oliver - Sydney and Frances Lewis Family Curator of Modern and Contemporary Art, Virginia Museum of Fine Arts, Richmond, VA
Michael Rakowitz - artist, Herb Alpert Award winner, Professor of Art and Director of Graduate Studies, Northwestern University, Chicago, IL
***
The 27th HAAIA awards celebration will be held virtually on Thursday, May 20, 2021
***
About Herb Alpert
Herb Alpert is a musician, record producer and executive, sculptor, painter and philanthropist. His albums have sold over 72 million copies, and 29 of his records have reached the Billboard 200. Billboard also listed Alpert as #7 on their "Greatest Of All Time Billboard 200 Artists." He co-founded A&M Records with Jerry Moss in 1962 turning it into one of the most successful independent record labels in history. In 2012 Alpert was awarded the National Medal of Arts by President Barack Obama and inducted into the Rock and Roll Hall of Fame in 2006.
About the Herb Alpert Award in the Arts
The Herb Alpert Award in the Arts is an unrestricted prize of $75,000 given annually to risk-taking, mid-career artists working in the fields of dance, film/video, music, theatre and the visual arts. The prize was initiated and funded by the Herb Alpert Foundation and has been administered by the California Institute of the Arts since 1994. The Award honors and supports artists respected for their creativity, ingenuity, and bodies of work, at a moment in their lives when they are poised to propel their art in new and unpredictable directions. The Herb Alpert Award recognizes experimenters who are making something that matters within and beyond their field.
About The Herb Alpert Foundation
The Herb Alpert Foundation envisions a world where all people are blessed with opportunities that allow them to reach their potential and lead productive and fulfilling lives.
Since its inception, the Foundation is dedicated to championing and investing in the Arts, primarily arts education, a focus on jazz, and support to professionals. This includes programs that see access to arts education as an issue of social justice and that the work of artists in society is what helps us not only to appreciate our differences but also to celebrate them.
This work often dovetails with the Foundation's support in the area of Compassion and Well-Being, which invests in organizations that understand the importance of empathy and cooperation in our daily interactions with others and the positive effects inherent in restoring individuals' and families' abilities to stand independently. Please note: the Foundation does not accept unsolicited proposals.