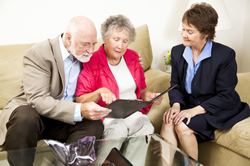 Taxation can be confusing. All of our financial planners and wealth advisors encourage retirees to thoroughly review their retirement savings before taking advantage of their Social Security benefits.
LAKE MARY, Fla. (PRWEB) August 08, 2019
Charles Oliver, President and CEO of The Hidden Wealth Solution urges Baby Boomers to evaluate when they should start claiming Social Security. Oliver and has staff have recently launched their newest online article entitled "The Best Time to Claim Social Security Benefits…The key is Tax and income Planning to keep the most of your benefits!" In this article readers will hear more from Oliver and read key findings on why Baby Boomers should consider holding off as long as possible before claiming Social Security.
Oliver stated, "Our government is very focused on the need for more tax collection. Baby Boomers have worked hard all of their lives so to be taxed so heavily upon retirement is almost mind boggling and many people don't realize there are legal options to saving as much of their income as possible from unnecessary taxation. One way is to save tax is by push out the date for when one would start claiming Social Security. In my newest article I address this. There is a significant savings when one pushes to age 70 for receiving Social Security as opposed to the legal age of 62 other than just the higher benefit payout. One's Social Security can grow by 8% each year when one defers claiming their benefit until age 70. So many people make this mistake and claim Social Security at an inopportune time thus resulting in earning penalties and benefit taxes. In reality, a recent study found only 4% of Baby Boomers actually start claiming Social Security at the most financially optimal time. More education is certainly needed in this area. This is why getting the advice from a top financial planner and wealth advisor is critical to one's retirement."
In his article Oliver also addresses how Baby Boomers need to consider navigating the taxes that come along with Social Security benefits. Oliver further added "Taxation can be confusing. All of our financial planners and wealth advisors encourage retirees to thoroughly review their retirement savings before taking advantage of their Social Security benefits. Many people need to tap into their benefits earlier thinking they need to do in order to support their lifestyle. Taxes may be a challenge for some as Social Security benefits are subject to taxation. As an experienced financial planner with experience in Social Security maximization planning we are able to advise Baby Boomers on tax brackets and how to plan accordingly for tax avoidance around Social Security benefits."
To read Oliver's article in its entirety, visit online at:
https://thehiddenwealthsolution.com/claim-social-security-benefits
The Hidden Wealth Solution is located at 250 International Parkway, Suite 146 in Lake Mary, Florida 32746. Their financial planners and wealth advisors specialize in helping Baby Boomers prepare for their retirement years as well as guide them during retirement so they pay less taxes by taking advantage of tax saving solutions. Oliver explains "There are several options for saving on taxes during retirement, but often people are not aware of these opportunities. All of the financial advisors in my firm do their best to educate clients of these options. I host a weekly radio show in Orlando, Florida, Tampa, Florida, Jacksonville, Florida, Dayton, Ohio and Phoenix, Arizona each weekend where I address topics such as taxation, financial planning for retirement, tax brackets, tax deductions, tax refund estimators, capital gains tax, investment strategies for best return, wealth management and early retirement options. Education is key to success. The more Baby Boomers know about how to navigate taxes during retirement, the more of their hard-earned income they will keep."
Oliver hosts a complimentary webinar on Tuesday's for Baby Boomers to hear more about strategies for optimizing retirement income and strategic tax savings. The next educational webinar is scheduled for August 13th, August 20th and August 27th. Attendees can register for any one of the following times: 11:00AM EST, 3:00PM EST, 7:00PM EST, 8:00PM EST or 10:00PM EST. To register online consumers should visit:
https://retirementprotected.com/
In addition to his complimentary weekly webinar, Oliver can also be heard on the radio every Saturday and Sunday. For consumers living in Orlando, Florida they can tune in to Newsradio 93.1 WFLA/540AM on Saturdays at 11:00AM EST and Sundays at 1:00PM EST. For those living in Tampa, Florida they can hear Oliver on Newsradio 970AM WFLA on Sundays at 11:00AM EST. In Jacksonville, Florida Oliver can be heard on News 104.5FM WOKV on Sundays at 11:00AM EST, in Dayton, Ohio on WHIO NewsTalk Radio 95.7FM on Sundays at 9:00AM EST and in Phoenix, Arizona on NewsTalk 550 KFYI on Sundays at 11:00AM MST. To hear each week's archived show consumers can visit online at:
https://thehiddenwealthsolution.com/hidden-wealth-radio/
The Lake Mary, Florida financial advisors at The Hidden Wealth Solution are available Monday through Friday from 9:00AM EST to 6:00PM EST when calling toll free 1-800-825-1766. Their office headquarters is located in the heart of Central Florida east of Downtown Orlando.