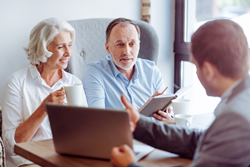 The teaching profession is probably the most under-paid career and filled with people who do more than any other profession to benefit children and this includes the support staff at each school as well.
LAKE MARY, Fla. (PRWEB) May 16, 2019
As a member of the National Life Group, The Hidden Wealth Solution announces their support of the "Life Changer of the Year" program. The "Life Changer of the Year" is an annual program that is sponsored by the National Life Group and recognizes K-12 educators and school related school employees across the country.
This program celebrates those who are making a difference in student's lives through their leadership, positive influence and excellence in the classroom. This annual program has been awarding recipients since the 2011/2012 school year and continues to recognize leaders who continue to make a beneficial difference in the lives of their students.
In accordance with "Teacher Appreciation Week", the National Life Group hosted their annual awards program during that same week of May 6, 2019. During the recognition program several people were awarded. The grand prize was awarded to Keishia Thorpe, an English teacher from International High School at Langley Park in Bladensburg, Maryland. Miss. Thorpe was awarded $10,000.00 to be shared between a $5,000.00 individual award and a $5,000.00 donation to her school.
There were several other award recipients as well including teachers from Aurora, Colorado, Honolulu, Hawaii, Bell Glade, Florida, River Rouge, Michigan, Savannah, Georgia, Raeford, North Carolina, Dallas, Texas and more. Each award recipient was given a cash prize to be shared between an individual award and their school or district.
The Hidden Wealth Solution founder, Charles Oliver, stated "These recipients couldn't be more deserving. I come from a family of school-teachers, and my wife was also a teacher. The teaching profession is probably the most under-paid career and filled with people who do more than any other profession to benefit children and this includes the support staff at each school as well. From the janitor to the cafeteria worker to the principal and the teachers, the entire staff at every school works countless hours for the well being of each child enrolled in their school. I feel honored to be able to support such a worthy program. Education is the difference!"
Nominations are now being accepted for the "Life Changer of the Year" award for the 2019/2020 school year. Deadlines to submit are in October and December. For more information on the nomination process, consumers are encouraged to visit online at: https://www.lifechangeroftheyear.com/awards
The Hidden Wealth Solution is based in Lake Mary, Florida and offers retirement and financial planning to consumers interested in creating more wealth for their retirement years. Owner and founder, Charles Oliver stated "we work with clients at all stages of their life to educate them in making sound financial decisions about their savings, pension and retirement investments. With tax changes it can be very confusing for consumers to understand and know how to invest their money without being heavily taxed. There are ways to invest your money to alleviate the heavy tax burdens that so many people experience. Our Lake Mary, Florida financial advisors are well versed in market trends and can provide guidance on 401K planning and how to plan for the retirement years. It's never too early to make your financial plans so you keep more and understand how the tax laws can affect your investments."
The Hidden Wealth Solution is located at 250 International Parkway, Suite 146 in Lake Mary, Florida, 32746. Their wealth management advisors are available Monday through Friday between the hours of 9:00AM to 6:00PM EST.
Consumers looking for a personal financial advisor, personal financial planning, investment advice and retirement planning are encouraged to call The Hidden Wealth Solution at 407-478-1599 or toll free at 1-800-825-1766.
Oliver added "We look forward to educating consumers on retirement planning, 401K investments, Roth IRA investments, tax deductions, deferred taxes and how to rollover a 401K to an IRA. We often are asked "how much money do I need before I can retire?" This is a common question that we can help answer. Depending on the age of the consumer, their lifestyle and current investment portfolio, that answer will vary. I encourage people to call me if they would like advice on planning for their retirement, my team of financial advisors and I would be happy to talk with them."
Consumers are invited to register for a free investment webinar to hear more from Charles Oliver. This webinar is designed to educate participants on the areas of retirement planning, tax savings, 401K investments and how to plan for financial security upon retirement. To register for this webinar or to see next available dates and times, visit online at: http://www.retirementprotected.com.
For more information about The Hidden Wealth Solution visit http://www.thehiddenwealthsolution.com or call 407-478-1599 or toll free at 1-800-825-1766. Their Lake Mary, Florida office is in close proximity to Downtown Orlando and the following Central Florida cities including Longwood, Sanford, Casselberry, Apopka, Maitland, Altamonte Springs, Winter Park, Winter Garden and Ocoee.