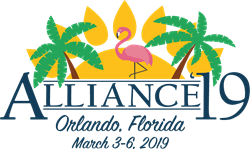 "Even with extraordinarily tight budgets, it is important that we stay current on the opportunities and challenges facing our institutions. There is no better way to do that than being at Alliance."
MESA, Ariz. (PRWEB) November 08, 2018
The Higher Education User Group™ (the HEUG™), is pleased to announce that registration is now open for the 2019 Alliance conference (https://www.alliance-conference.com). The Alliance Conference is the largest meeting of Higher Education & Public Sector users of Oracle Applications in the world and anticipates over 3500+ attendees to converge in Orlando this March for four days of education and networking. Alliance 2019 is being held March 3-6 in Orlando, Florida at the Walt Disney World Swan and Dolphin Resort.
The conference is a user-driven program with more than 350 technical and functional sessions supported by examples, handouts (all available to download after the conference), expert panels, and information system product updates. Cathy Thompson, the 2019 Alliance Conference Chair said "Even with extraordinarily tight budgets, it is important that we stay current on the opportunities and challenges facing our institutions. There is no better way to do that than being at Alliance."
While the educational program is a primary focus, the ability to network with peers from institutions around the world to help solve problems is equally important. Andy Helms from Miami University, a first-time attendee at the 2018 event, said "I made so many great connections and learned a lot. This was also the first event I've attended in a while where I can truly say I felt inspired. It's nice to have gone to a conference that exceeded the 'learned stuff' level and made it to the 'inspired me to go back and improve' level."
This year's conference is stronger than ever with an array of opportunities for networking and learning. Some of the highlights for this year:

21 tracks covering Oracle Cloud, PeopleSoft, Oracle EBS and Hyperion applications
Reports and discussions from successful implementations and upgrades
One-to-one interaction with Oracle professionals in Meet the Experts
Business intelligence/data warehousing focused sessions
Both technical and functional tracks to meet attendee needs
Opportunities to build a network of relationships to support institutional needs year round
In addition, the Alliance Solution Center hosts over 100+ exhibitors, enabling members to connect with solution delivery partners to help solve problems that require resources beyond the ability of an institution. For more information on becoming a partner at this year's event, please visit: https://www.alliance-conference.com/page/2019-be-an-exhibitor.
Registration opened on November 7, 2018. The Early Bird rate (signing up before January 11, 2019) offers an impressive discount of over $400 off the regular registration rate, so it is encouraged that attendees register early.
Please visit this link to find out more information: http://www.alliance-conference.com/.
About the Higher Education User Group
The Higher Education User Group™ (HEUG™) is a Non-Profit, international organization consisting of Higher Education institutions that use software from the Oracle Corporation. HEUG's mission is to educate and advocate by facilitating the sharing of ideas, information and experiences among its members, and to provide a unified and effective independent voice to our system partners. The HEUG represents hundreds of member institutions and over 27,000 individuals across the globe. It includes a wide range of institutions, from community colleges, to small liberal arts colleges, to large research universities and state university systems. For more information please visit https://www.heug.org.