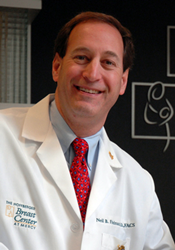 "To be recognized by the NAPBC is another indication of Mercy's commitment to providing our patients with the highest quality in health care services." -- Neil B. Friedman, M.D., FACS, Director, The Hoffberger Breast Center at Mercy
COCKEYSVILLE, Md. (PRWEB) February 08, 2019
The Hoffberger Breast Center at Mercy has been granted a 3-year, Full Accreditation renewal by the National Accreditation Program for Breast Centers (NAPBC), marking 10 years Mercy's center has held this designation. Accreditation by NAPBC is administered by the American College of Surgeons and is granted only to those centers that have voluntarily committed to provide the best in breast cancer diagnosis and treatment and is able to comply with established NAPBC standards.
Each center must undergo a rigorous evaluation and review of its performance and compliance with the NAPBC standards. To maintain accreditation, centers must undergo an on-site review every three years.
Mercy's Breast Center continues to be a leader in the field and was first in Maryland to offer Intraoperative Radiation Therapy (IORT) to patients, and among the first to offer 3D screening Mammography in The Tyanna O'Brien Center for Women's Imaging.
"It's appropriate that we should receive news of this important re-accreditation the same year that we celebrate the 25th anniversary of the Center for Women's Health and Medicine," said Neil B. Friedman, M.D., FACS, Director of The Hoffberger Breast Center at Mercy as well as Medical Director of The Weinberg Center for Women's Health and Medicine at Mercy. "To be recognized by the NAPBC is another indication of Mercy's commitment to providing our patients with the highest quality in health care services."
The Hoffberger Breast Center at Mercy in Baltimore is a renowned, nationally accredited breast center with award-winning programs and doctors. The Breast Center's comprehensive care is thoughtfully designed for women undergoing the journey to overcome breast disease.
Founded in 1874, Mercy Medical Center is a university-affiliated medical facility named with a national reputation for women's health. Mercy is home to the nationally acclaimed Weinberg Center for Women's Health and Medicine as well as the $400+ million, 20-story Mary Catherine Bunting Center. For more information visit Mercy online at http://www.mdmercy.com, Facebook, Twitter or call 1-800-MD-MERCY.