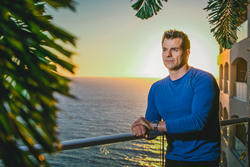 My experience with this kind of alternative drug rehab center is beyond words. Johnny gave me my life back.
Los Angeles, CA (PRWEB) January 27, 2014
"My brain was healing itself, while Johnny was standing over me performing a life-changing, spiritual healing session. For the first time in 25 years, I could feel my soul!"
These are words from Justin Hoffman as he experienced the healing power of the "Pouyan Method" of recovery practiced exclusively at The Holistic Sanctuary for addiction healing.
As a gifted DJ and fixture in the nightlife of Las Vegas and amid the neon lights and excitement of the 'anything goes' lifestyle of the desert paradise, opiate addiction was insidiously destroying Justin's body, mind and spirit.
In addition to the well-known drugs associated with chemical dependency such as heroin, cocaine, suboxone, methadone and others, Justin was also suffering from "Iatrogenic Disease."
Iatrogenic Disease – death by prescription medication - is the third most fatal disease in America, claiming the lives of over 100,000 people annually and forever ruining 2 million others both physically and emotionally.
Confronted like so many others with this life-or-death situation, Justin was well on his way to becoming another tragic addiction statistic until discovering Johnny Tabaie – Johnny the Healer – and The Holistic Sanctuary.
Justin Hoffman was dying and nothing in the world worked. There are dozens of ibogaine clinics and why chose The Sanctuary we asked Justin, he replied "Its easy Johnny The Healer is the real deal, he is greatest Healer using this medicine and I will forever owe him for what he did for me. I had no money and he gave me a chance while others gave up on me. Bottom line, Johnny The Healer saved my life.
Upon arrival at The Holistic Sanctuary, many addicts in search of permanent healing like Justin, are prior veterans of traditional 12-step rehab facilities, and have been 'medicated into addiction' as part of their treatment protocol.
Addiction to suboxone - a widely used and addictive alternative to illegal drugs like heroin and cocaine – is common among addicts. Ridding the body, mind and spirit of the prescription medication is a primary factor for those seeking a cure at The Holistic Sanctuary.
The main focus of the all-natural and holistic approach to ending addiction employed at The Holistic Sanctuary targets the very effective and scientific protocol of healing the brain. Results become clearly evident as the regenerative power of the brain can be viewed, and in many instances to the amazement of patients, by looking at brain scans which provide clear "Before" and "After" images unmistakably illustrating the permanent healing taking place.
State-of-the-art medical technology is providing absolute proof of the brain's power to heal the most ravaged bodies, the results of which can be viewed @ https://www.theholisticsanctuary.com.
"My experience with this kind of alternative drug rehab center is beyond words. Johnny gave me my life back. Everything now is better…starting with super foods, cleanses and meditation. In fact, I was so healed my body rejected a store bought turkey sandwich. I owe Johnny and The Holistic Sanctuary everything," said Justin.
The Holistic Sanctuary is the home of the exclusive, all-natural and proprietary Pouyan Method, which enables patients to experience an effective and rapid end to a variety of addictions. Unlike traditional drug and alcohol rehabilitation centers with high rates of failure and relapse among patients, The Holistic Sanctuary offers customized protocols with the amenities of a 5-star resort.
Addictions are stopped without prescription medication OR the use of 12-step programs. And, patients are not classified as having an incurable delivery. Therapies focus on healing the brain, so people can heal their lives!
For more information about their innovative techniques, founding principles and testimonials from former patients, visit TheHolisticSanctuary.com today and start living your new life tomorrow!
Heal the Brain, Heal Your Life
The Holistic Sanctuary
Attn: Media Relations
info@TheHolisticSanctuary.com
Los Angeles, California
310-601-7805