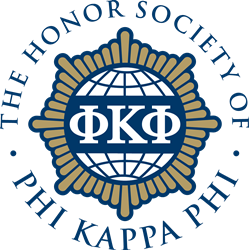 "Each year, nearly 2,000 active members of Phi Kappa Phi serve our members and chapters as volunteers, almost 100 on award selection committees," said Executive Director Dr. Mary Todd. "We could not do what we do without the commitment and partnership of these members to the mission of the Society."
BATON ROUGE, La. (PRWEB) April 08, 2019
The Honor Society of Phi Kappa Phi, the nation's oldest and most selective all-discipline collegiate honor society, is proud to celebrate National Volunteer Week beginning today, April 8, through April 13, 2019.
In honor of National Volunteer Week, Phi Kappa Phi celebrates the outstanding efforts of its board members, committee members and chapter officers who serve more than 320 chapters nationwide. The commitment and support of these volunteers enable Phi Kappa Phi to continue its almost 125-year history of recognizing and promoting academic excellence in all fields of higher education.
"Each year, nearly 2,000 active members of Phi Kappa Phi serve our members and chapters as volunteers, almost 100 on award selection committees," said Executive Director Dr. Mary Todd. "We could not do what we do without the commitment and partnership of these members to the mission of the Society."
Phi Kappa Phi was founded in 1897 under the leadership of Marcus L. Urann, who had a desire to create a different kind of honor society: one that recognized excellence in all academic disciplines. Each year the Society inducts approximately 30,000 students, faculty, professional staff and alumni on its chapter campuses in the United States and the Philippines. More than 1.5 million members have been initiated into Phi Kappa Phi since its founding.
National Volunteer Week was established in 1974 as a way to recognize and thank volunteers who lend their time, talent, voice and support to causes they care about in their communities.
To learn more about volunteer opportunities available for Phi Kappa Phi members, visit http://www.phikappaphi.org/volunteer.
More About Phi Kappa Phi
Membership in Phi Kappa Phi by invitation only to the top 7.5 percent of juniors and the top 10 percent of seniors and graduate students. Faculty, professional staff and alumni who have achieved scholarly distinction may also qualify for membership. Its mission is "To recognize and promote academic excellence in all fields of higher education and to engage the community of scholars in service to others." Some of the organization's notable members include former President Jimmy Carter, NASA astronaut Wendy Lawrence, novelist David Baldacci and YouTube co-founder Chad Hurley. Each year, Phi Kappa Phi awards almost $1 million to qualifying students and members through graduate fellowships, undergraduate study abroad grants, member and chapter awards, and grants for local, national and international literacy initiatives. For more information, visit http://www.phikappaphi.org.