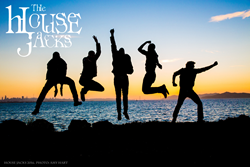 They sing up a storm in perfect a cappella harmony…Their music is as current as tomorrow's news. - San Franscisco Chronicle
SAN RAFAEL, Calif. (PRWEB) September 05, 2018
Founded in 1991, The House Jacks instantly redefined the vocal music genre. Combining their virtuosic harmonies with spectacular stagecraft, these five world-class performers continue to push the boundaries of the human voice, thrilling audiences around the world.
In addition to their jaw-dropping performances and multi-award-winning albums of original music, The House Jacks are among the world's leading a cappella educators, providing extensive coaching to scholastic and professional groups worldwide.
On Sunday, Sept. 30, Marin's own Youth in Art's teen a capella group 'Til Dawn, (which is coached by House Jacks' own Austin Willacy) opens the show.
WHAT: A Late Sunday Afternoon of Amazing A Cappella & Vocal Creativity.
TICKETS: From $25. Reserved Table & General Admission seating choices.
WHEN: Sun. Sept. 30 @ 4pm. Doors: 3:30
4:00 'Til Dawn Performs
4:35 Break
4:50 House Jacks Perform
5:30 Intermission
5:45 House Jacks return to the stage
WHERE: The Osher Marin JCC, 200 N San Pedro Rd, San Rafael, 1/2 mile E off 101
PARKING: Ample FREE parking.
MORE: Wine, beer, a selection of soft drinks, coffee, tea, snacks and freshly baked goods available for purchase. Concessions may be enjoyed throughout the performance in the theater.