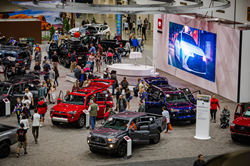 "With the help of manufacturers, local dealer groups and individual dealerships, we've selected a wide variety of vehicles for guests to experience."
HOUSTON (PRWEB) April 26, 2021
The first-ever Houston 'Summer' Auto Show features a curated selection of some of your favorite brands. This limited-edition event takes place at NRG Center May 19-23, 2021, and for the first time, includes an RV and boat display!
The Houston Auto Show, produced by the Houston Automobile Dealers Association and presented by the Houston Chronicle, features carmakers of all types and offers an opportunity to test drive a select variety of models under strict safety conditions. Exhibitor participants include brands such as; Aston Martin, BMW, Bentley, Cadillac, Chevrolet, Chrysler, Dodge, Fiat, Ford, Genesis, Hyundai, JEEP, Kia, Lexus, Lincoln, Lotus, Mazda, McLaren, Mitsubishi, Nissan, Porsche, Ram, Rolls-Royce, Toyota, Subaru, Volkswagen, and Volvo.
"This first-ever summer auto show has been exciting to produce," said Roger Elswick, chairman of the Houston Automobile Dealers Association and president of Community Auto Group in Baytown. "With the help of manufacturers, local dealer groups, and individual dealerships, we've selected a wide variety of vehicles for guests to experience."
The excitement returns with exhibits like Camp Jeep, the Ram Test Track, and new to Houston, the Ford Raptor simulator. Finally, for the automotive purist, the Houston Auto Show will also exhibit a selection of classic vehicles with a summer vibe, like a 1934 Ford Woody Wagon and a 1955 Porsche 356 Continental.
Houston-based, Texas Sportfishing Yacht Sales will fill their space from top-of-the-line bay boats to monster offshore fishing boats valued from $100,000 to one million dollars. Jump aboard to see their luxury center consoles, high-speed motors, and the best in the bay fishing options including brands like Contender, Yellowfin, Yamaha, and Tidewater.
Longtime Houston RV dealer, Demontrond RV will also bring in a new RV display to the Houston Auto Show. Expect to see brands such as Thor Motor Coach, Forest River, Winnebago, and Entegra. Team Mancuso will display two-wheeled exhilaration with their offering of Harley-Davidson motorcycles.
The Houston Auto Show takes place at NRG Center, Halls A – D, May 19-23:
Wednesday, noon – 9:30 p.m.
Thursday, noon – 9:30 p.m.
Friday, noon – 9:30 p.m.
Saturday, 10 a.m. – 9:30 p.m.
Sunday 10 a.m. – 7 p.m.
Tickets go on sale Monday, April 26 online only for $10, plus TicketMaster fees. Social distancing will be encouraged, masks are required and guests will be asked health screening questions prior to entering the building. Check out the full plan of activities at http://www.HoustonAutoShow.com.
###