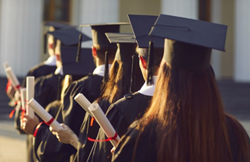 SCRANTON, Pa. (PRWEB) January 09, 2023
Hyundai is offering a $400 bonus toward the lease or purchase of a brand-new Hyundai vehicle at Dickson City Hyundai in Scranton, Pennsylvania, through the Hyundai College Grad Program. The offer is limited to well-qualified customers who meet all the offer criteria and is subject to credit approval through Hyundai Motor Finance (HMF). This offer is valid through Jan. 2, 2024.
College graduates who have graduated within the past two years or college students who will graduate within the next six months will be considered eligible for the Hyundai College Grad Program. To qualify for this offer, customers must present the following documents: i.) A copy of the diploma or a letter from the college or university's registrar's office stating that the applicant has graduated within the past 2 years or will graduate within the next six months and ii.) proof of employment (such as a pay stub) or an offer letter from a prospective employer confirming employment. Also, the applicant must not have an adverse credit history, and the verifiable proof of employment or firm commitment from an employer should be with start date no more than 90 days from the date of the finance contract. Please note that the offer is not valid on Hyundai Certified Pre-Owned Vehicles or any used vehicles.
Prospective buyers are encouraged to visit the Dickson City Hyundai dealership located at 1519 Scranton Carbondale Highway, Scranton, Pennsylvania, 18508. Drivers can also reach out to the ever-friendly and knowledgeable customer care team at 570-487-5000 for further information regarding the Hyundai College Grad Program.