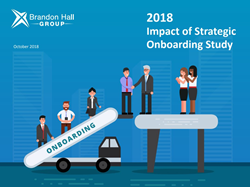 Organizations are realizing the time-to-proficiency of new hires must improve
DELRAY BEACH, Fla. (PRWEB) October 19, 2018
Brandon Hall Group's 2018 Impact of Strategic Onboarding Survey addresses the impact of organizations' current onboarding practices on new-hire talent metrics and business metrics, such as productivity. It also provides an in-depth understanding of the role of the C-Suite and technology in supporting onboarding, learning and assimilation during the onboarding process.
"Organizations are realizing the time-to-proficiency of new hires must improve and that takes a lot more than good intentions and an Excel spreadsheet," said Mike Cooke, CEO of Brandon Hall Group. "Technology is beginning to take hold, though not at the pace one would think. We now see two of five companies currently using a dedicated onboarding technology solution and another 18% planning to acquire one in the next 12 months."
Less than one-third of organizations (31%) report their C-Suite (executive leaders) extensively supports onboarding through collaboration, participation, promotion and investment.
Organizations receiving this support see substantial improvements in new-hire engagement, retention, referrals and time-to-proficiency.
"When new hires begin work, they are at the peak of their engagement with a company. All too often a poor onboarding experience degrades the excitement and it never returns," said Daria Friedman, Brandon Hall Group Principal Talent-Acquisition Analyst. "Change is usually driven from the top and the overwhelming majority (80%) of companies with extensive C-Suite support for onboarding see improvement in new-hire engagement."
The research includes a four-level maturity curve. Organizations experiencing the biggest business impact for onboarding:

Fully link onboarding with learning and development.
Have a dedicated onboarding technology solution integrated with an applicant tracking system and other technology, like a learning management system.
Utilize assessments during onboarding.
Identify high-potentials during onboarding.
Have fully implemented engagement and assimilated practices.
Provide new hires with mentors.
The data comes from a survey of HR, talent-acquisition, learning and talent-management technology professionals and business leaders conducted August through the end of September 2018. There were 581 usable responses. The sample represents organizations headquartered in 33 countries across at least 36 industries. The most-represented industries in the technology survey were: Healthcare, Manufacturing, Government, Education, Technology and Software, and Banking.
Download a sample of the research report, Impact of Strategic Onboarding. http://go.brandonhall.com/DataNow_Snapshot_Onboarding_PR_2018
About Brandon Hall Group Inc.
Brandon Hall Group is an HCM research and advisory services firm that provides insights around key performance areas, including Learning and Development, Talent Management, Leadership Development, Talent Acquisition and HR/Workforce Management.
With more than 10,000 clients globally and 25 years of delivering world-class research and advisory services, Brandon Hall Group is focused on developing research that drives performance in emerging and large organizations, and provides strategic insights for executives and practitioners responsible for growth and business results.
At the core of our offerings is a Membership Program that combines research, benchmarking and unlimited access to data and analysts. The Membership Program offers insights and best practices to enable executives and practitioners to make the right decisions about people, processes, and systems, coalesced with analyst advisory services which aim to put the research into action in a way that is practical and efficient. (http://www.brandonhall.com)