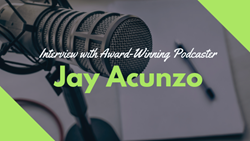 Jay Acunzo discusses work best practices, following trends, creative team practices and key tips for building a better career.
AUSTIN, Texas (PRWEB) December 18, 2018
Magnificent Marketing is excited to present a new podcast episode featuring an interview with award-winning podcaster and content expert Jay Acunzo.
Jay is a multi-awarded podcaster who is an expert on moving away from conventional thinking to accelerate the growth of companies and careers. He is an excellent keynote speaker and a seasoned digital content marketer.
He was tasked with heading content for numerous startup companies including HubSpot. He also worked for Google as a digital media strategist, perhaps his most impressive career endeavor.
Harvard Business School has cited Jay's work, as well as writers from the New York Times and Washington Post. Today, Jay is the host and producer of multiple web series that focus on the meaning people find in their work. He has built editorial strategies for startups and produced awe-inspiring shows about the importance of intuition at work. His mission is to help you own and trust your intuition that leads to exceptional work. Jay has traveled the globe speaking to organizations of all sizes about the dangers of best practices.
In this episode of Magnificent Marketing's marketing podcast, Jay Acunzo discusses work best practices, following trends, creative team practices and key tips for building a better career.
The full interview can be found on Magnificent Marketing's YouTube channel and, with an accompanying blog, on magnificent.com. Find it here.
About Magnificent Marketing:
Magnificent Marketing is your full-service content marketing agency that will take care of all your marketing needs so that you can concentrate on the core duties needed to manage and grow your business.
Their objective is to generate leads that turn into customers while focusing on expanding the visibility of your company and brand, and positioning you to be "top of mind" for future potential clients.
In order to achieve this, they draw on their experience and belief that a mixture of traditional marketing techniques combined with modern marketing tools will yield the best results. In other words, they blend old and new school marketing to create the best school of thought.
About Jay Acunzo:
Jay is the founder of Unthinkable Media, which works with fast-growing startups and challenger brands to create entertaining B2B shows. In a world where "storyteller" has become a buzzword, Jay actually understands how to tell great stories -- stories that entertain, surprise, teach, and above all, push people beyond conventional thinking so they can do their best work. His book, Break the Wheel, inspires others to do exactly that.