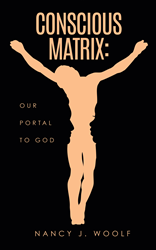 Paradoxically, the more we understand science--how the conscious matrix within the brain is wired and how energy and matter converge at the smallest scale--the more we prove God truly exists, and that our brains evolved first and foremost to experience of God
LAS VEGAS (PRWEB) April 24, 2020
Author Nancy J. Woolf addresses some perceived inconsistencies between intellect and spirituality in Conscious Matrix: Our Portal to God ($16.49, paperback, 9781630508586; $26.49, hard cover, 9781630508593; $8.99, e-book, 9781630508609).
Woolf spend over 30 years teaching and researching neuroscience and quantum mind theory, and she encountered many scientists who challenged people to choose between science and religion. But what if we didn't have to choose? What if the two fields of study were actually in agreement all along?
"Paradoxically, the more we understand science--how the conscious matrix within the brain is wired and how energy and matter converge at the smallest scale--the more we prove God truly exists, and that our brains evolved first and foremost to experience of God," said Woolf.
Nancy J. Woolf was an Emeritus professor in the UCLA psychology department and holds a Ph.D. in Neuroscience from the UCLA School of Medicine. Now retired, she enjoys dancing, traveling and the culinary arts.
Liberty Hill Publishing, a division of Salem Media Group, is a leader in the print-on-demand, self-publishing industry. Conscious Matrix is available online through amazon.com and barnesandnoble.com.