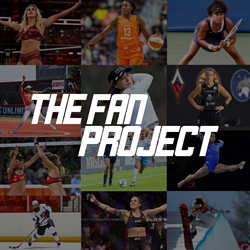 With The Fan Project we'll be able to finally give those responsible for investing in broadcast rights and sponsorship of women's sports data they simply can't ignore
BOSTON (PRWEB) February 03, 2021
An ambitious new program launches today with the goal of accelerating investment in, and increasing media coverage of, women's sports. The Fan Project was created by market intelligence firm Sports Innovation Lab, and is supported by major leagues and industry associations, including the WWE, NWSL, WNBA, LPGA, UFC, Women's Sports Foundation and more. The goal of the campaign: highlight the fan enthusiasm behind women's sports and make the case for why investing in the women's sports community is a savvy business decision.
"The same statistics around the high engagement and tremendous interest, but lack of coverage and lagging investment, in women's sports continue to permeate the industry with zero impact," said Sports Innovation Lab CEO and 4X Olympic Medalist Angela Ruggiero. "With The Fan Project we'll be able to finally give those responsible for investing in broadcast rights and sponsorship of women's sports data they simply can't ignore."
The Fan Project is asking all sports fans to download and share their social media archives, something that every Facebook and Twitter user has rights and access to as a result of GDPR legislation. Sports Innovation Lab believes these files hold the key to what sports fans watch, do, and buy. By securely and anonymously analyzing the files, they can produce a report that credibly proves the business opportunity for women's sports.
"We know we have the best soccer players in the world competing in the NWSL, and our fans are amongst the most engaged in sport," said NWSL Commissioner Lisa Baird. "The Fan Project will help us understand the fan at an even deeper level, and share the story of how valuable women's sports are to the media and sponsors."
Fans can feel confident their data is anonymous and secure, as Sports Innovation Lab's technology removes and deletes all personal information when the files are uploaded.
Sports Innovation Lab, along with the participating leagues and partners, expect to have the data findings and report published this summer. The Sports Innovation Lab will use the findings as a catalyst and an industry call-to-action to increase women's sports coverage to 10% in 10 months from the date of report publication.
"In 2015 our audience started a movement on social media using the hashtag #GiveDivasAChance that trended worldwide for three days and hastened what WWE now calls the Women's Evolution, creating equal opportunity for our female Superstars," said Stephanie McMahon, WWE Chief Brand Officer. "The numbers and the sentiment from fans show there is a clear market for women's sports, and it is up to brands, networks and media to invest and help move the industry forward."
For more information on The Fan Project and a full list of participating partners, please visit https://thefanproject.co/
About Sports Innovation Lab
Sports Innovation Lab is leading a sports research revolution. Sports Innovation Lab exists to educate clients on the technological possibilities for their brand and how to ultimately drive value to the end consumer: the Fluid Fans™. Sports Innovation Lab inspires brands to create breakthrough fan experiences through data-driven technology insights and industry-leading research. You can learn more about Sports Innovation Lab at https://www.sportsilab.com/.
About NWSL
The National Women's Soccer League is a ten-team Division-I women's professional soccer league featuring national team players from around the world. The clubs are the Chicago Red Stars, Houston Dash, North Carolina Courage, Orlando Pride, Portland Thorns FC, OL Reign, Sky Blue FC, Kansas City, Washington Spirit, and Racing Louisville FC. The league will welcome two new teams in 2022, in Los Angeles and Sacramento. Based in Chicago, the NWSL is partners with the Canadian Soccer Association and the United States Soccer Federation.
About WWE
WWE, a publicly traded company (NYSE: WWE), is an integrated media organization and recognized leader in global entertainment. The Company consists of a portfolio of businesses that create and deliver original content 52 weeks a year to a global audience. WWE is committed to family friendly entertainment on its television programming, pay-per-view, digital media and publishing platforms. WWE's TV-PG, family-friendly programming can be seen in more than 800 million homes worldwide in 28 languages. WWE Network, the first-ever 24/7 over-the-top premium network that includes all live pay-per-views, scheduled programming and a massive video-on-demand library, is currently available in more than 180 countries. The Company is headquartered in Stamford, Conn., with offices in New York, Los Angeles, London, Mexico City, Mumbai, Shanghai, Singapore, Dubai, Munich and Tokyo. Additional information on WWE (NYSE: WWE) can be found at wwe.com and corporate.wwe.com. For information on our global activities, go to http://www.wwe.com/worldwide/.